Last winter, I reviewed Nordstrom Trunk Club for the first time and, as if by divine intervention, I was moved to try it again this winter. If you want to learn more about Nordstrom Trunk Club and see what I got in my first box, check-out this post.
And to be completely transparent, the above links to the Trunk Club site are affiliate links, which benefit you and I in the long run because we both get discounts or credits when they are used! (Thanks in advance if you decide to support me, which you are already doing by being here. Love you for doing all the things.)
This time, I asked for blouses because I only have a few in my collection right now and am actively looking for more.
---
My measurements for your reference:
Bust – 55″
Waist – 51″
Hips – 60″
---
Item #1: City Chic Western Embroidered Maxi Dress, Bronze, Size: XLW, $129
City Chic, an Australian brand, has the reputation of having amazing dresses for plus size folks. I can attest to that fact, however, from my experience with this dress, I feel like the quality of their pieces makes that pricetag look pretty steep. In my last trunk, I got overalls from this brand and they did not fit me at all, but seemed to be of decent quality, so the brand has been inconsistent for me.
I loved the color, detailing and style of this dress, but it did not fit me well, as evidenced by the gaping all down the front of the dress. There is no way on Earth I would spend more than $100 on a dress that did not fit me well. Sorry, NEXT!
Item #2: KUT from the Kloth High Waist Raw Hem Ankle Skinny Jeans, Black, Size: 24W, $89
In my last trunk, I bought a pair of jeans from KUT from the Kloth and I have not for one second regretted that purchase, so it was a smart move to send me another pair of jeans from the same brand in my second box.
These jeans were damn near perfect. They were mega soft, a good length and had no distressing, which feels hard to come by these days. They are a little more expensive that I am used to, but that's not what stopped me from getting them. I don't typically wear black jeans, like ever. They just aren't for me, so I sent these packing!
Item #3: Caslon Stretch Organic Cotton Jacket, Green Sorrel, Size: 3X, $69
In the last two photos, I am wearing this army green jacket, which struck me as an interesting choice to include because in my last box I also got a green jacket and sent it back.
I thought this jacket was comfortable, good quality and a really good price, but I am not necessarily in need of a jacket like this at the moment and I really didn't dig the neckline. It kept hitting me in the chin and I just know it wouldn't be something I'd reach for.
Item #4: NYDJ Marilyn Raw Hem Ankle Straight Leg Jeans, Norwalk, Size: 24W, $119
Another fantastic denim brand available at Nordstrom is NYDJ, or Not Your Daugther's Jeans. I was unsure of the length of these when I first saw them in my trunk preview, but I am glad that I got to try them on because they were fab.
They are a nice wash, an excellent fit and the high-low frayed hem was super cool. This hem is meant to show off a badass, sexy shoe, which is a detail I can be down with. If these would have been in my budget, I would have bought them, no doubt.
A word of advice for my thrifters out there, seek out this brand in the wild. You won't regret it.
Item #5: Halogen Floral Raw Edge Satin Tank, Pink Hero Floral Camo, Size: 3X, $49
The tank top I am wearing with the jeans in the above images is a good example of the kind of blouses I am looking for because they are easily layerable for different seasons and occassions.
I liked the print on this top and it was of decent quality. I would have preferred maybe one size bigger, as it was a bit tight in the chest and hip areas. And I'm not typically a fan of v-necks, but this one was okay. I also was willing to look past the fact that I felt like the colors in this top washed me out. What do you think?
Item #6: Treasure & Bond Floral Long Sleeve Top, Beige Vintage Meadow, Size: 3X, $69
Next up in the blouse department was this floral number, which was very soft and I LOVED the sleeves and cuff detailing.
The only reason why I did not buy this top was because I hated the neckline. I know, I know. I'm picky about necklines, but I know what I like and I don't want to buy something I won't wear.
Item #7: Treasure & Bond Puff Sleeve Textured Button-Up Blouse, Ivory, Size: 3X, $69
This elevated basic was another good addition to my trunk. This top was made out of quite possibly the most lux fabric I have ever had the privilege of putting on my body. But, perfection is unattainable and this blouse gaped in my chest area.
I would have also liked if this blouse was less transparent. We don't want to wear camisoles or tank tops under every little garment we own, okay?! Fashion industry, are you listening? Fix it, please.
Item #8: Treasure & Bond Pintuck Flounce Sleeve Chambray Top, Blue Wing, Size: 3X, $24.50
And last up for blouses was this abomination. That neckline! Not only does it not make sense on a chambray tank top, the turtleneck was really tight and just not cute.
Sorry not sorry if it is the best thing you have ever seen. The quality was nice and the detailing was pretty, but that's about it.
Item #9: Lucky Brand Debruh Bootie, Topanga Tan, Size: 10, $138.95
I didn't make any specifications for accessories, but I was happy to see a good quality pair of beautiful booties in my box. However, they were way too tight on my foot, even though they were in my correct size.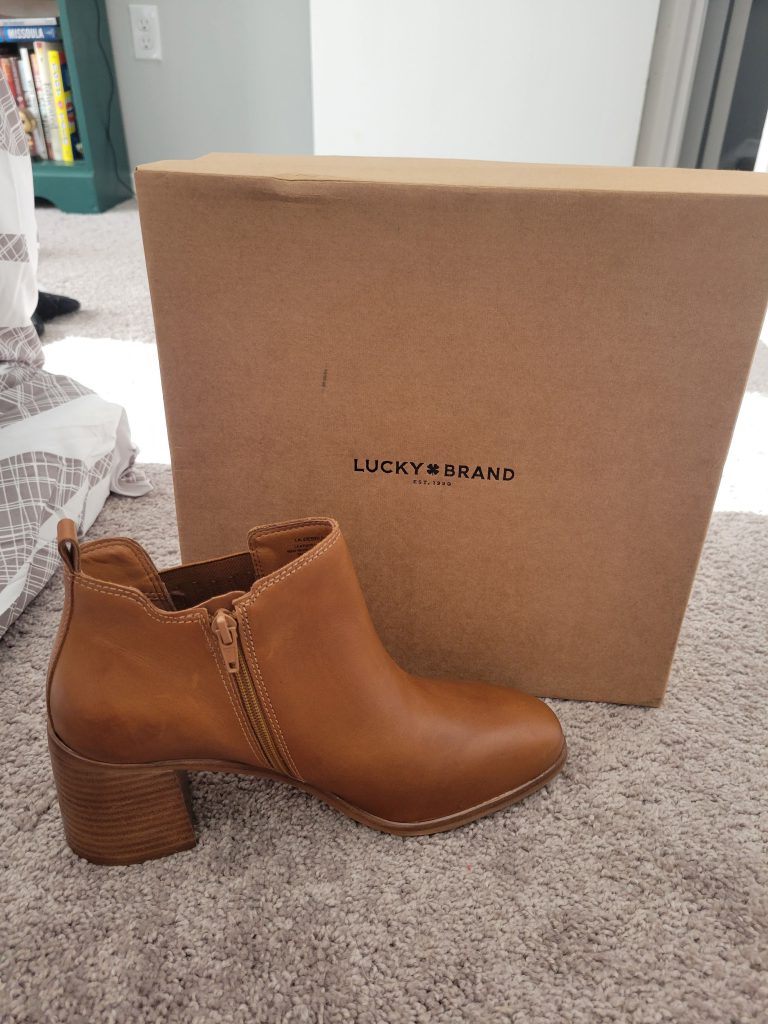 I'm not in the market for brown booties at the moment and these guys were pretty pricey, so they went back where they came from.
Item #10: Panacea Rose Beaded Teadrop Earrings, Rose, $28
And for the only purchase I made from this box, my stylist included this delicate, but eclectic pair of earrings that I think will really glam up a simple outfit this summer.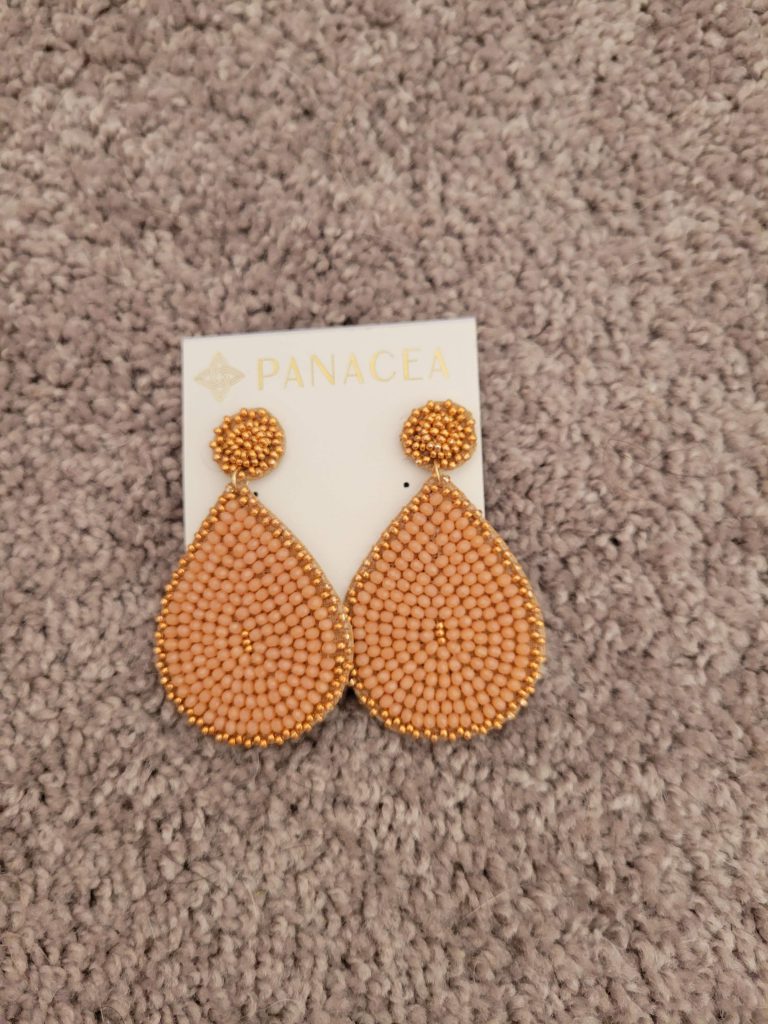 ---
Now with two trunks under my belt, I can still confidently say that I like Nordstrom Trunk Club. The brands tend to create cool, interesting pieces that cater to a wide audience and I genuinely enjoy this service.
I appreciate the inclusion of so many blouses in my trunk, which is what I requested, and for including denim brands that I dig in this box.
If you want to try out this service, click here and let me know if you get any winners and let me know what other clothing subscription services I should try out.