I think y'all know by now how I feel about thrifting. Right? It's my favorite thing. But, right now, I can't do my favorite thing because most thrift stores are closed due to the coronavirus pandemic. Needless to say, I am missing my thrifting. So, when my bestie, Claire, suggested that I get a ThredUp Goody Box, I jumped at the chance. (Thanks for the recommendation, pal!)
ThredUp markets themselves as the "largest online thrift store"; they sell secondhand women's and children's clothing, as well as accessories. The prices range depending on the piece. They accept all sizes, however, I have heard they are very picky with what they accept. I have tried to sell things to them before and was not successful. I've seen countless videos on YouTube about ThredUp and have always wanted to try it out for myself. This seemed like the perfect opportunity.
On April 16, I took the style quiz, but not before being stopped by several pop-ups asking me to log in or sign up to get discounts. It was overwhelming and annoying, but I made it to the style quiz where ThredUp asked me questions about my style and my fit preferences. They included questions about what I was looking for right now and what I absolutely did not feel comfortable in. I said I was looking for pants, skirts and active wear. I also added that I don't really wear shorts and that my style was bohemian.
The box was $10, which they called a styling fee, I believe, but the pieces are individually priced. The styling fee gets applied to whatever you decide to keep and purchase. The box comes with ten items!
I received the box on April 25, which seemed like a reasonable amount of time to wait for a package considering the current situation we are in, and I had a certain number of days to return the box. My paper receipt that came in my box said to return within seven days and my email receipt said to return within 21 days. I returned it in three days because I wasn't about to pay for the whole box on a loophole. (Qcknd on YouTube had a similar experience with the conflicting return dates.)
---
Now, let's get into the box and the goods.
The ThredUp Goody Box came decorated in their signature polka dot fabric and, I have to say, it was very exciting to receive. It's exciting to have someone style you! This makes me want to try out other subscription boxes. The packaging was cute and they included some literature in the box.
Before I get into the items, I want to say that I feel like I CAN review certain things about the box and its contents, but I CANNOT review others. I will review the style of the item, if it was the right size according to what sizes I gave them, if it was what I requested, the price of the item and the condition that the item came in. I cannot review whether the items fit me if it is in the size I said I was. ThredUp can't control whether or not a garment fits the same as a garment from another store. It does, however, impact my experience because I may not even be able to try on that item if it is too small. So, I will mention the fit, even though I'm not holding it against ThredUp.
I will also mention that I am VERY suspicious of their pricing. Whenever I have visited the website before I have thought things were VERY overpriced. I also am convinced that they pad their "estimated retail" prices. I am biased though! I am used to Goodwill prices. So, we will see.
Lastly, I will ALWAYS be honest with you guys. I want you to know exactly how I feel. I will act here as I do in my real life, no sugar coating. Obviously, my comments about the items are my opinion and my opinion only. You may like an item that I hated and vice versa. No judgement here. Wear what you want and I will too.
---
Item #1: Women's Remade Long Sleeve Blouse (Price – $16.99), Size 2X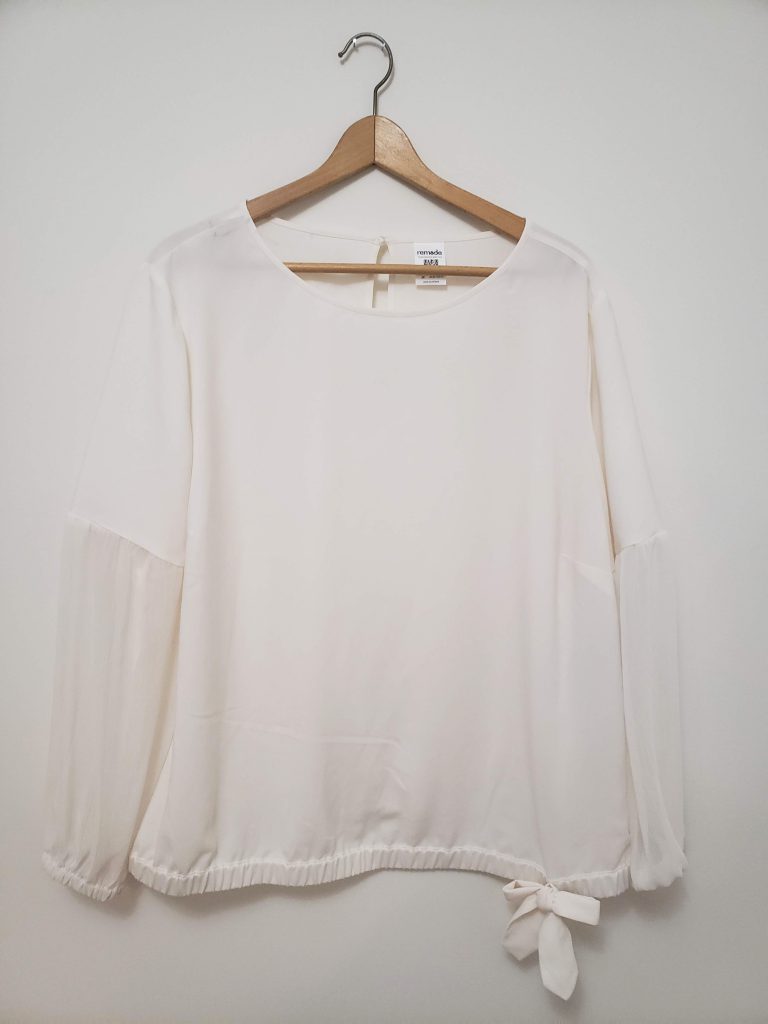 The estimated retail price for this blouse was $88. I'm not sure where that price comes from considering this is ThredUp's in-house brand, Remade.
I really liked the style of this blouse! It had nice details, including the sheer sleeves, tie and scrunched waist and keyhole opening on the back. I would have had to wear a cami or tank top underneath because it was see through. I opted to not get this blouse because I have three other white tops! I just didn't need it. The fit was good! 
Item #2: Women's Soft Surroundings Casual Skirt (Price – $16.99), Size 20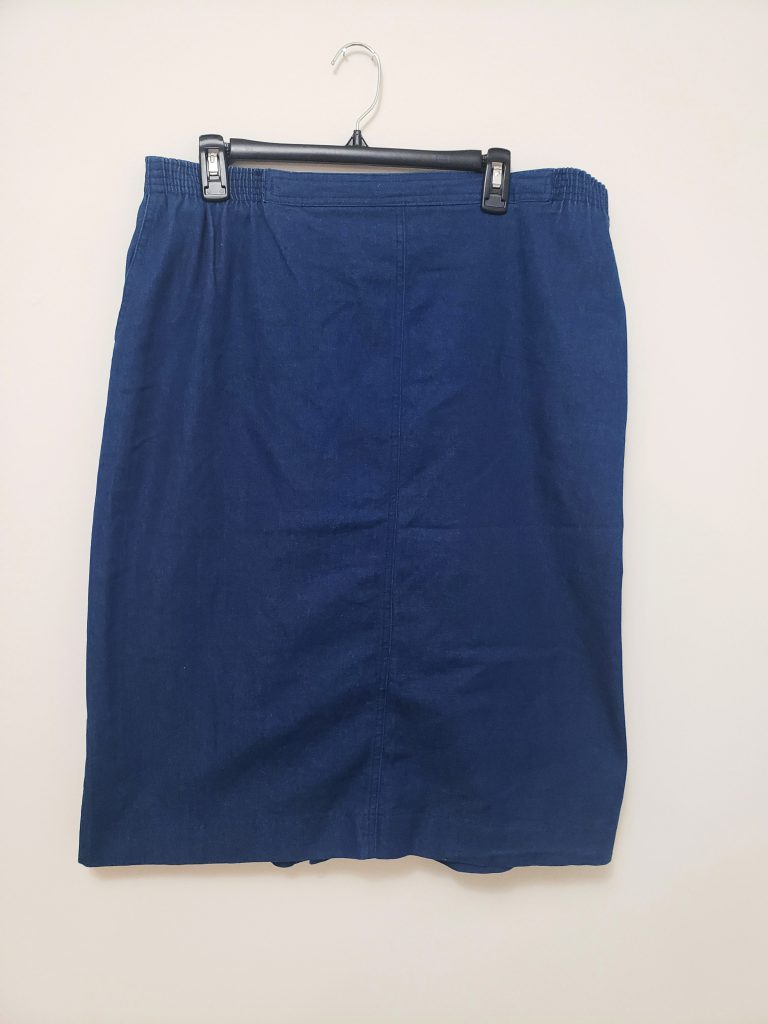 This estimated retail price for this skirt was $71. I found that to be an overpriced estimate. The skirt was an older style and current skirts at Soft Surroundings are going for $50 or less.
I appreciated that they included skirts for me to try on, but this wasn't the one for me. It was a denim, midi, pencil skirt that seemed to be good quality and fit me nice. I am just very picky about skirts and this one didn't feel like me.
Item #3: Women's Lularoe Casual Skirt (Price – $18.99), Size 2X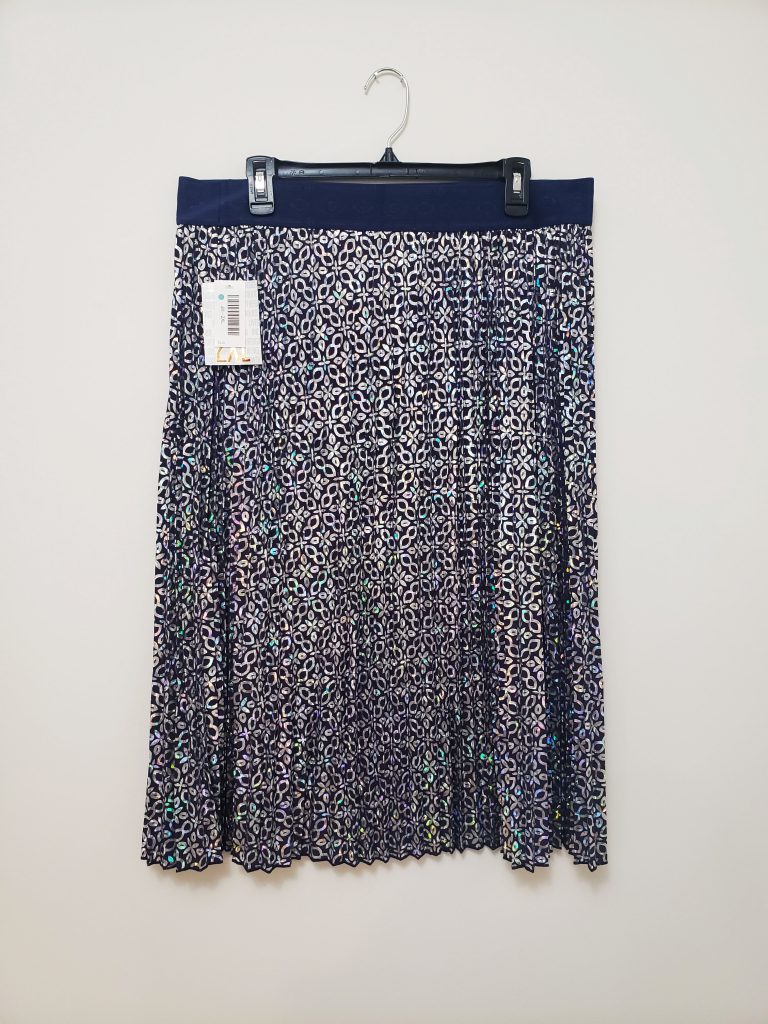 The estimated retail price for this skirt was $36. Now, I am NOT a fan of Lularoe for ethical reasons and their styles are just not appealing to me. However, online this skirt in similar patterns is selling for $20. I don't get that, but okay. So, that means their price was fair.
I will be honest, Logan and I had a good laugh at this one. This print was god awful and the fit wasn't any better. I didn't even give this skirt more than five minutes of my time.
Item #4: Women's Sonoma Life + Style Jeans (Price – $18.99), Size 20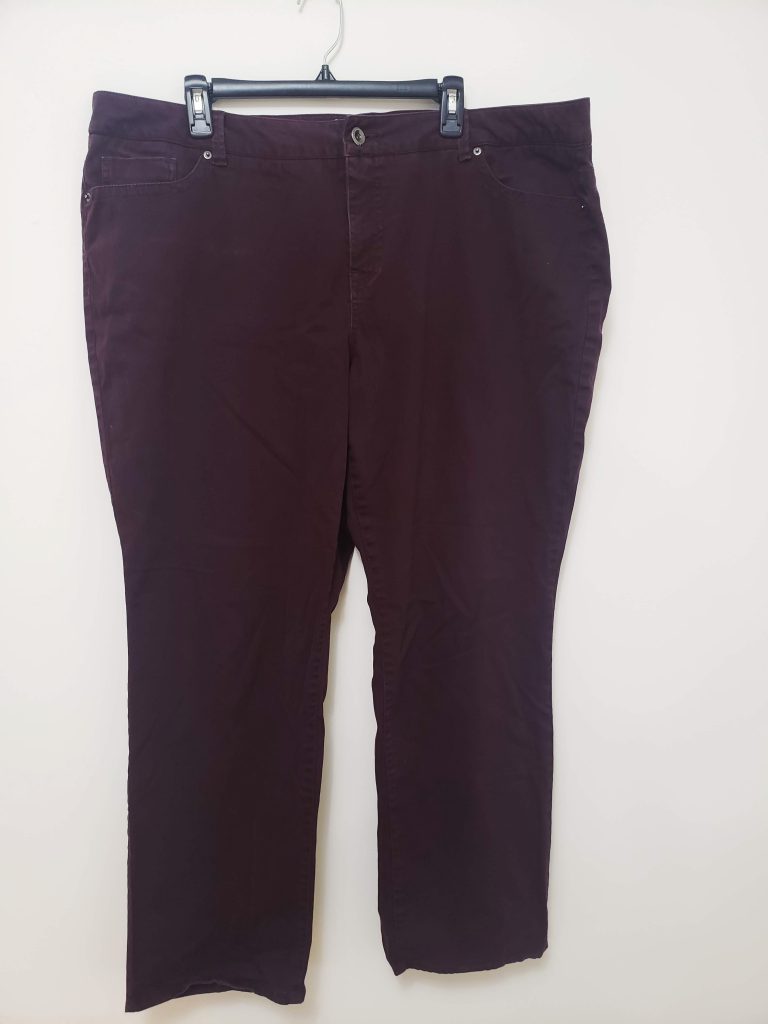 The estimated retail price for these jeans was $48. Sonoma is sold at Kohl's and, according to the Kohl's website, Sonoma pants are going for under $40. They would probably be sold for under $15 on the Kohl's clearance rack and for even less in the thrift store.
I can't say much about these because they did not fit me. They seemed to be good quality and I liked the maroon color.
Item #5: Women's CJ Banks Casual Pants (Price – $17.99), Size 20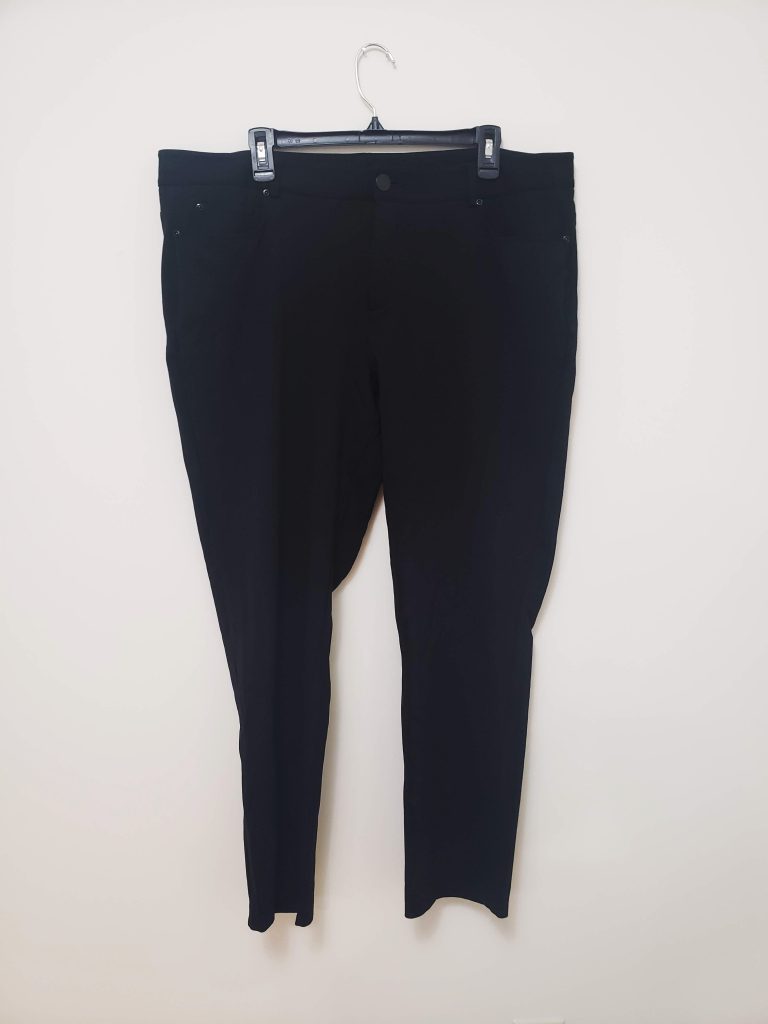 The estimated retail price for these pants was $71. I have never shopped at CJ Banks before because I think they cater to a more mature demographic, but I know CJ Banks clothes sell for dirt cheap at the thrift store. Although, it looks like on the CJ Banks website, pants are going for between $40-$50, which makes ThredUp's price a little high.
I think everyone needs a good pair of black pants, but these didn't fit me quite right. If they would have been the perfect fit, I may have considered it. They seemed to be good quality.
Item #6: Women's Assorted Brands Top (Price – $17.99), Size 2X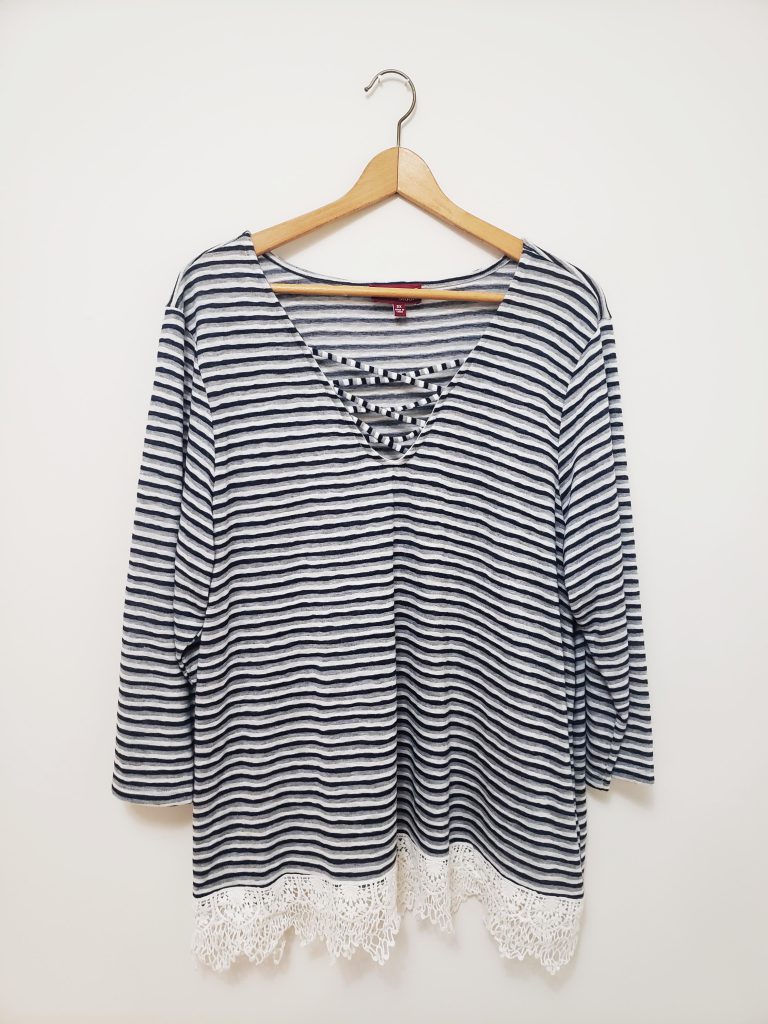 The estimated retail price for this top was $36. I can't speak to the retail price because the brand was "assorted" and I'm not sure what that means. It looked to be a boutique brand. However, with the retail price being that low, I would think that the resale price would be lower.
I think this top had too much going on for my liking. There was too many details and it didn't fit me that well. Overall, not my vibe.
Item #7: Women's Torrid Blouse (Price – $18.99), Size 2X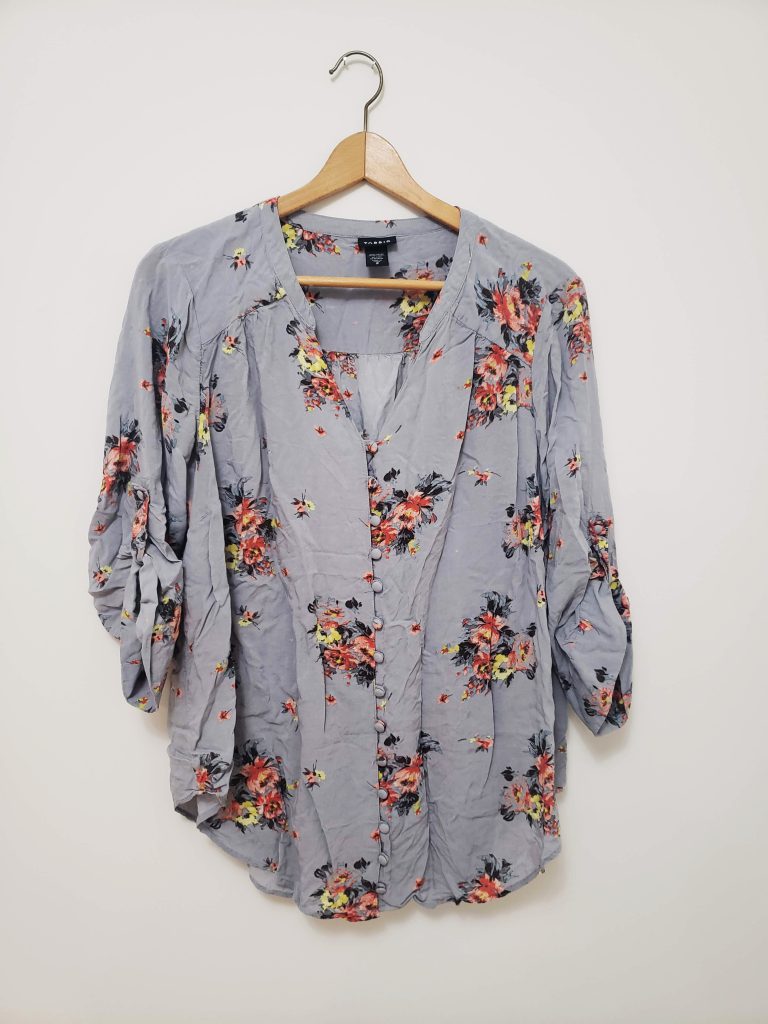 The estimated retail price for this blouse was $60, which seems steep. Don't get me wrong, Torrid is not cheap. But, the Torrid website seems to suggest that a blouse like that would have retailed for closer to $40-$50.
I like the style of this blouse, but the buttons on the front did not accommodate my lady bits. It also was so wrinkled! It seemed pretty worn and not of the highest quality and the fit was just okay. 
Item #8: Women's Assorted Brands Blouse (Price – $19.99), Size 2X
The estimated retail price of this blouse was $48. I'm not sure I believe that, but I can't confirm it because it was, once again, labelled "assorted."
The overall style of the blouse was beautiful. I loved the color and the detailing on the cuffs. I did not like the quality of the top. I cannot stand when a piece of fabric at the collar or neck is not sewn down and continuously folds up (see what I mean where the tag is?). It cheapens the garment big time! The reason I ultimately had to pass was because the buttons on the front did not fit well on my chest.
Item #9: Women's Point Sur Blouse (Price – $37.99), Size 2X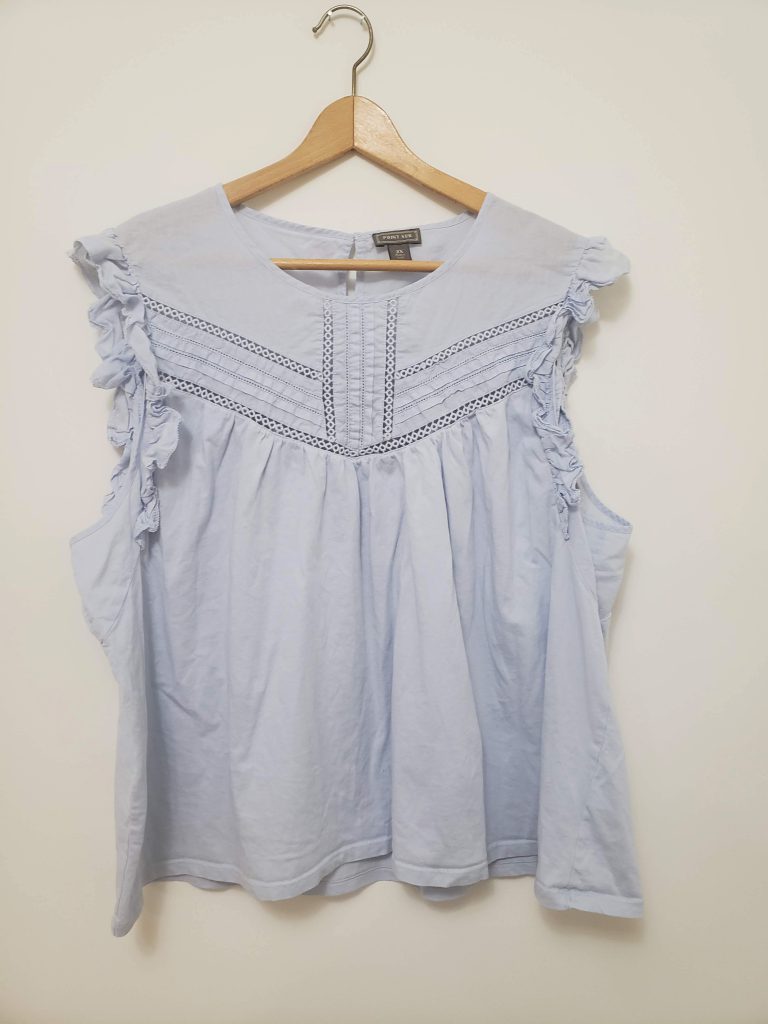 The estimated retail price for this blouse was $196, which I have come to find out is a ridiculous suggestion. I have found no blouse from this brand over $110 and that includes tops with sleeves!
This blouse made me so sad. I tried it on thinking that I would never pick it out for myself, but LOVED the way it looked on me. I put it on again right before I sent the other stuff back and noticed there were two holes in it. I was so disappointed! This would have been the only thing I would have purchased, even though it was overpriced. It was a perfect fit as well. 
Item #10: Women's Lands' End Jeans (Price – $24.99), Size 20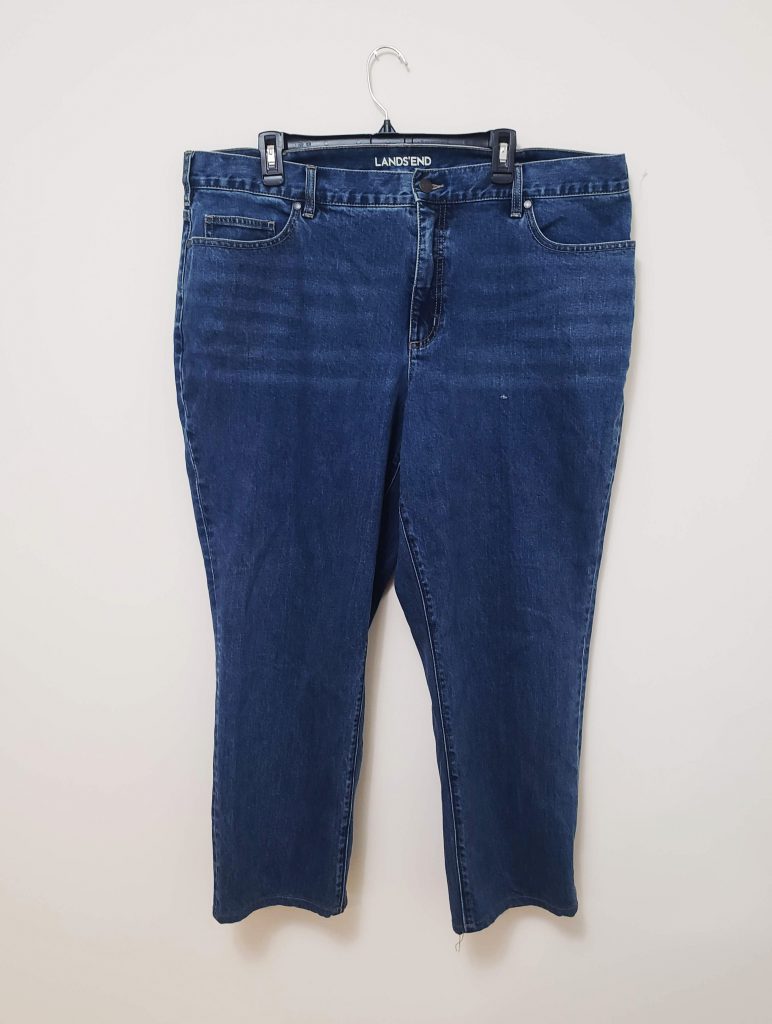 The estimated retail price for these jeans was $95, which seems pretty high considering that all of the jeans on the Lands' End website right now are between $40-$60.
The style and wash were basic. But, the denim seemed sturdy. They did not fit me, so I can't say much more.
---
Final Thoughts:
I think this was a fun experience. I liked getting styled by someone else and the $10 fee is worth it, in my opinion. I would definitely buy another styling box from another website.
The box included some things that were up my street and some things that were basics that anyone could wear (jeans and black pants). I did not get any active wear, which was disappointing, but I was satisfied with the styles, except the Lularoe skirt.
Everything was "in my size", whether it fit me or not.
Overall, the quality of the items was mediocre. I thrift shop a lot and know when a garment is high quality. Several of the tops in this box would have been $5 or under at Goodwill.
The price for the entire box would have been $539. Absolutely not. Almost every piece had an overestimated retail price and had an overpriced resale price. It has been suggested that ThredUp is closer to consignment pricing, but I think consignment stores take into consideration the quality of the items when they are pricing something. In this instance, the quality would not stand up in a consignment store.
I love the concept of ThredUp and wanted to love every piece I got. However, I have my suspicions about the quality and quantity of plus size pieces that they sell.
Would I do it again? Maybe, because I like the thrill of someone else shopping for me. I also am not opposed to buying pieces individually off their site. Do I recommend it? Sure! If you are new to shopping secondhand and don't like rummaging through a thrift store I think ThredUp is an easy way to step your toes into ethical fashion. Just make sure you check the ACTUAL retail price before you fork over your coin. I know so many people that love ThredUp and I am glad that others are having excellent experiences with secondhand fashion.
I think with all subscription boxes and styling boxes, you take the chance of letting someone else style you and getting it completely wrong. But, it could also go very right. If the styling fee is decent, I think trying these boxes is totally worth it!