A couple of weeks ago, I saw a video made by @sarahjanebetts that ended up on my YouTube Shorts feed. She called the video, Mannequin vs. Reality and it consisted of her going into different stores and putting on the outfits that were featured on the mannequins.
I thought this was a brillant idea because, as I think you probably already know, outfits look perfect on straight-sized mannequins and on photoshopped models. But, how do those clothes look on a plus size human like me? Well, I'm going to show you!
This is also amusing to me because it tests out the styling abilities of the employees who work in the stores, who sometimes style looks themselves when they are not sent photos of outfits from corporate offices to copy. The goal for the employees is typically to show customers how the items look off the hanger and to encourage the purchasing of multiple items at once.
The availability of the items on the mannequins always varies, so that's something to consider when attempting to dress like the mannequins in a store.
I chose to go to Old Navy to conduct this experiment because I knew they were likely to have my size in-store. I ended up being able to try on the pieces from two of the mannequins that I saw.
---
My measurements for your reference:
Bust – 55″
Waist – 51″
Hips – 60″
---
The mannequin above on the right was one that caught my attention pretty quickly because I loved the print of the dress and the tiers that gave it length. This outfit is very simple, it includes a dress and sneakers.
So, I found my size and tried it on! I was not able to find this particular pair of sneakers in the store, as they have an animal print on the heel. But, I wore white Adidas sneakers into the store, so I tried on the dress with my sneakers on.
I like the look all together and I think that it was fairly trendy, as prairie dresses and athleisure are very popular at the moment. I, however, would have opted for black sneakers for a more cohesive look.
The dress fit me very nicely, but I think it was a bit overdone. The chest featured a tie up neckline and buttons down the front. One or the other would have been preferrable.
Item Details: Tie-Neck 3/4-Sleeve All-Day Maxi Swing Dress, Size 3X, Color: Black Multi Flower | Faux-Leather Sneakers, Color: White/Leopard Print Heel
---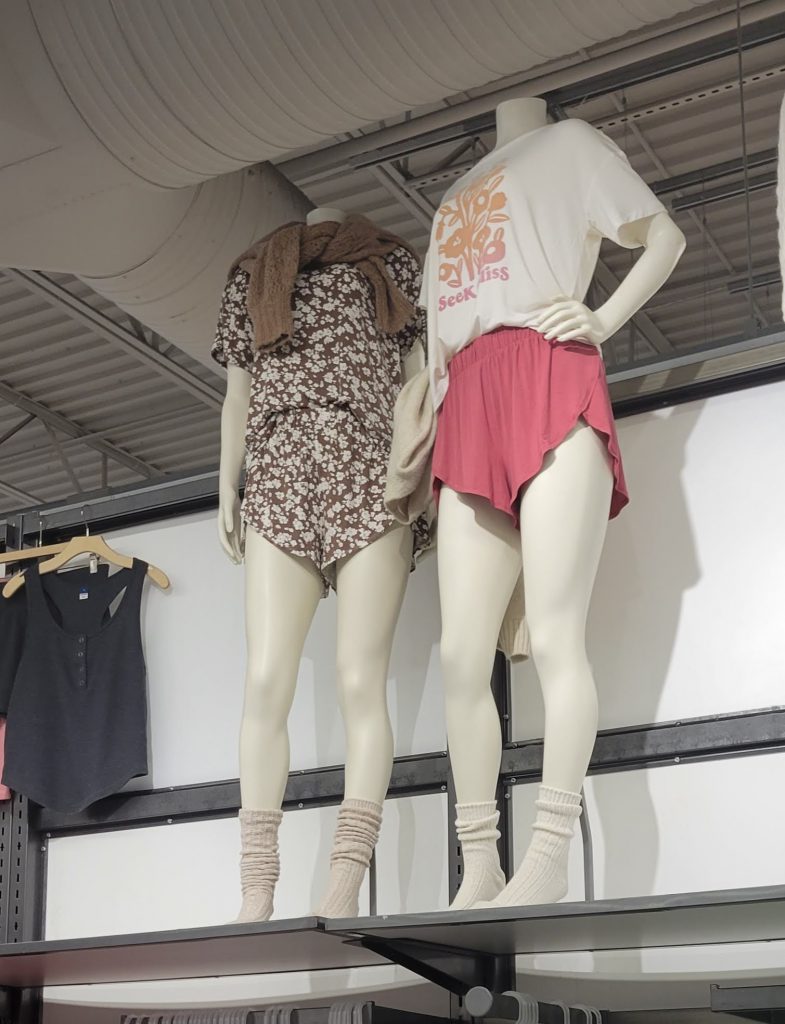 The next look I attempted to replicate is the pajama set above on the left. I love a good matching pajama and the brown shade of this one was particularly appealing to me.
I found my size very easily in the pajamas and I found what I think was the correct brown sweater to drape over my shoulders. I opted for no socks as I would have had to destroy some packaging to try them on, but they would have made for an even cosier look.
The pajama set was very comfortable and fit me pretty well. I think that the sweater was just an extra bit of styling, but it did look cute with the shorts. I will say that the sweater was itchy and I wouldn't buy it for that reason alone.
I liked this monochrome outfit a lot and would definitely wear it, although shorts and a sweater feel a little disjointed for me.
Item Details: Boat-Neck Heathered Pointelle-Knit Sweater, Size 3X, Color: Brown | High-Waisted Sunday Sleep Ultra-Soft Dolphin-Hem Pajama Shorts, Size 3X | Loose Sunday Sleep Ultra-Soft Pajama Top, Size 3X
---
This was fun and I plan to do more challenges like this at other stores. It is nice sometimes to have an outfit already chosen and put together for you, so dressing like the mannequins is a decent option for a lot of folks.
Let me know if you have bought an outfit straight off the mannequin before and if I pulled off these mannequin looks.