Almost a year ago, I tried my first Goody Box from ThredUp and you could say I had mixed reviews. I didn't buy anything and I clearly wasn't moved to do another one or buy anything else from ThredUp until this month. But, you all seemed to enjoy my review so I ordered another box.
I also still think ThredUp is a great option for those folks who don't like the thrift store or don't have much luck in the thrift store and I am never going to be upset if someone shops from there.
This time when I was ordering my box, I noticed a Create Your Own option. With this choice, you can choose ten items from the "My Home Warehouse" filter that are between $15 and $100 per item. No stylists are involved and it is still only $10.
---
I attempted to select items from brands that I had never tried before and always wanted to try like Good American and Universal Standard, plus some items from more expensive brands that I like, such as Eloquii.
If I were to purchase everything that came in my box, it would set me back $464.90. The estimated retail price of all of these items, according to ThredUp, is $1,308.
Also, as a reminder, I can wear an XXL to a 3X and a 20 to a 24.
---
Item #1: Women's Hutch Casual Dress; Size 22W; $64.99
I chose this dress because I thought it would be perfect for work events where I have to look fancy. I like to wear something with sleeves to work events so I don't have to wear any other layers on top. This dress also seemed to be a good length for me.
I thought the fit of this dress was decent, but was a little snug under my bust. The print felt a little too mature for me, but the quality was great and it was very comfortable. If I had loved the dress, the price would have been okay by me.
Item #2: Women's Swimsuits For All Swimsuit Bottom; Size 24; 19.99
I have heard excellent things about this brand, so when I saw these bottoms that would be easily mix and matchable I thought this was a good item to include in my box. And I was correct!
These bottoms fit me perfectly! The print is cute and the knot detailing on the front is very flattering on my figure. The quality lived up to its reputation and I will most certainly be seeking out more items from Swimsuits For All in the future. With the $10 deposit that I paid for the box, these came out to only $10.
Item #3: Women's Eloquii Blazer; Size 22 Plus; $19.99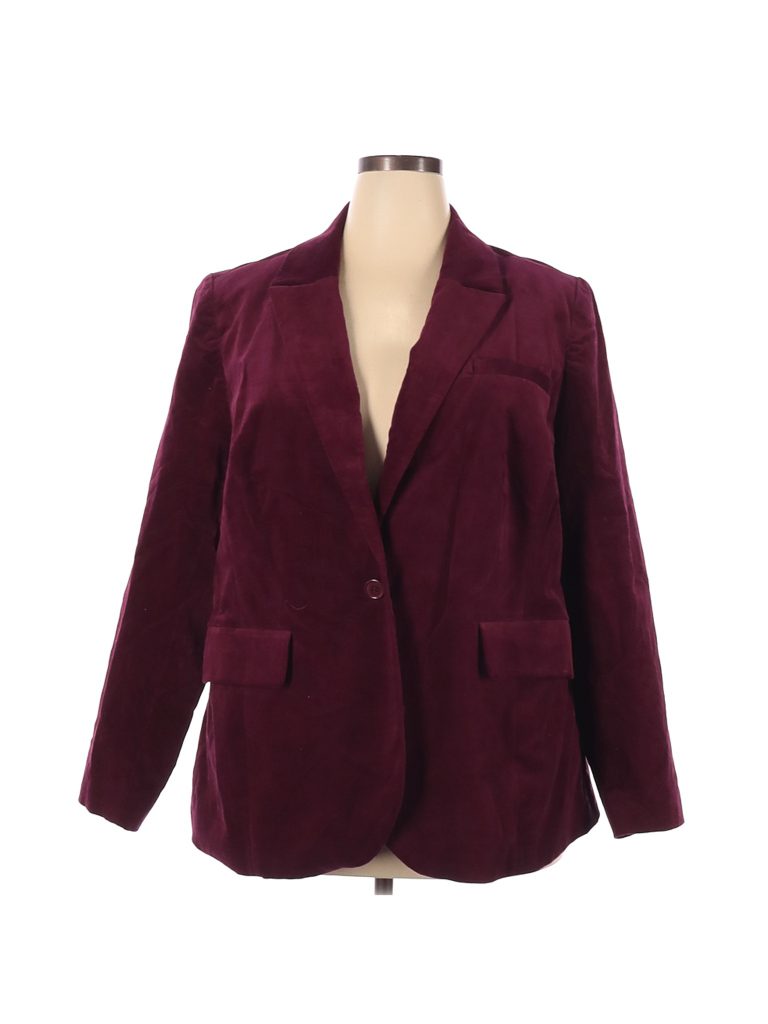 I love Eloquii and I am on the hunt for more blazers, so this was an easy choice to include in my box.
I think that this would be a great addition to my closet in the winter months, but during the middle of May, I couldn't bare to have it on for more than a couple of minutes. It was velvet and would have been a stunner at a Christmas party. It was excellent quality and fit me amazingly.
I didn't think that this was something I needed in my closet right now, but I am still glad I tried it on.
Item #4: Women's Good American Jeans; Size 24; $71.99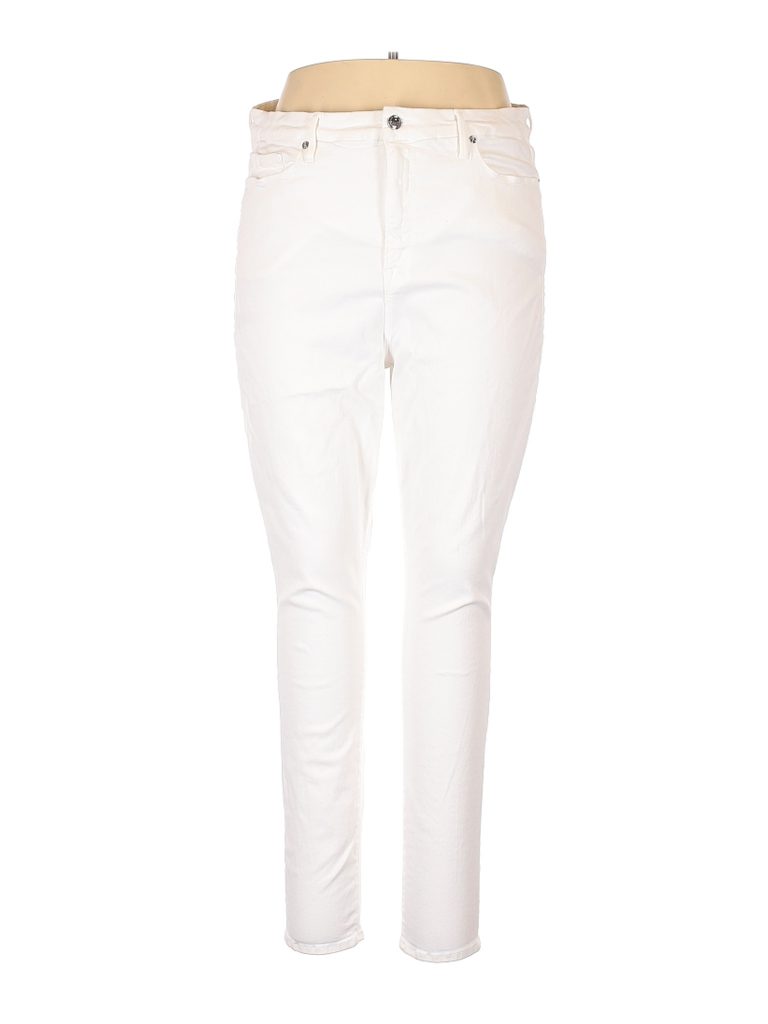 As I mentioned before, I wanted to try out brands that I had never tried on before. One of those brands is Good American, Khloe Kardashian's company. I will never directly support a brand that supports the Kardashian/Jenner family because quite frankly I think they are awful people, but, I was curious because these jeans are well-known and supposed to be amazing.
I chose this pair of white jeans because I have never worn a pair of white jeans before in my life, so I thought now was the time to try.
That idea was halted in its tracks because they did not fit me, at all. These seemed to be of decent quality, but were still see-through as most white jeans are. These were the Good Legs style.
Item #5: Women's TOMS Wedges; Size 10; $28.99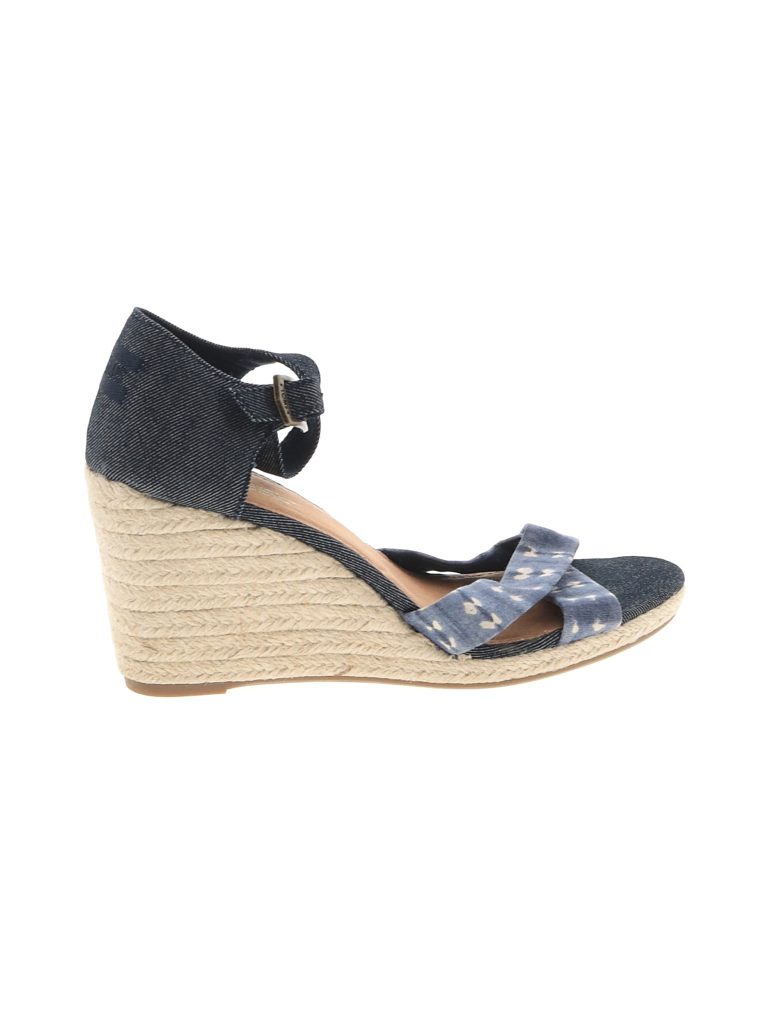 I love TOMS and I own five pairs at the moment and have probably had more than a dozen others in my lifetime. My size is either 9.5 or 10 at TOMS, but I think their sizing is inconsistent at times.
These peep toe wedges were really cute, but really narrow. They fit me well at the ankle and the heel, but my toes were very squished. I know my feet would be numb within minutes of wearing them. I would have been happy to pay that price though if they would have fit me properly.
Item #6: Women's ModCloth Blouse; Size 2X; $19.99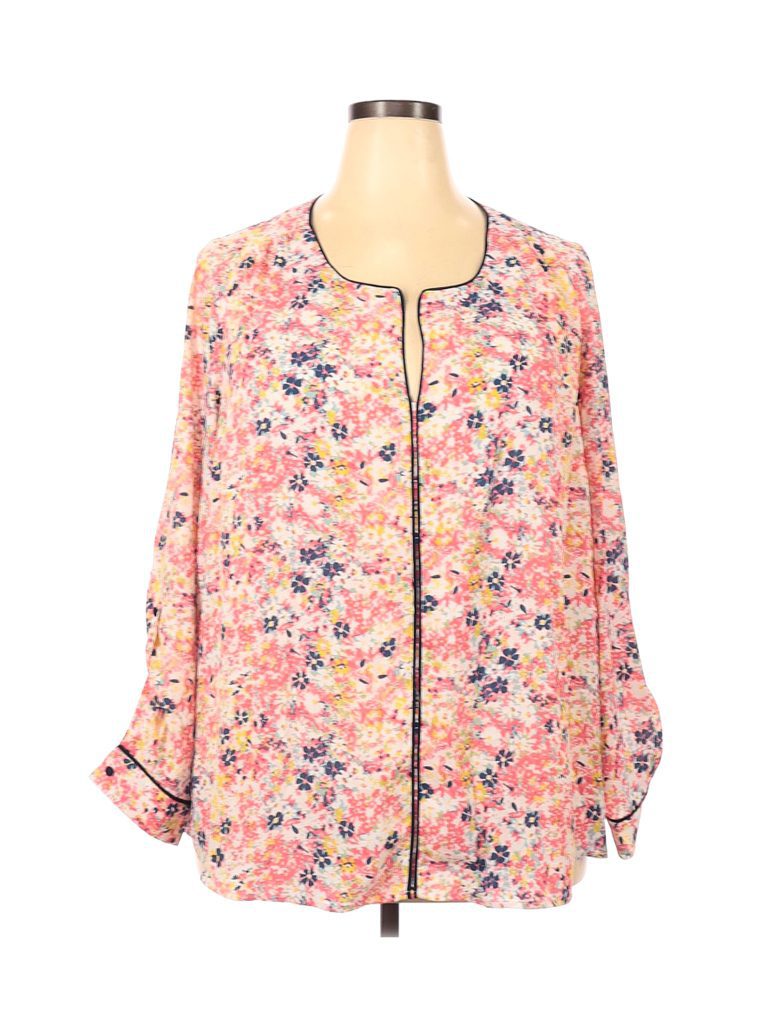 ModCloth is another brand that I like, but I don't shop very often because I think it is overpriced for the quality.
The print on this blouse was super cute and I could see myself wearing it to work or with jeans. However, this blouse did not go over my shoulders. I can't say much else about it other than that it felt thin.
Item #7: Women's Universal Standard Wool Pullover; Size 24 Plus; $48.99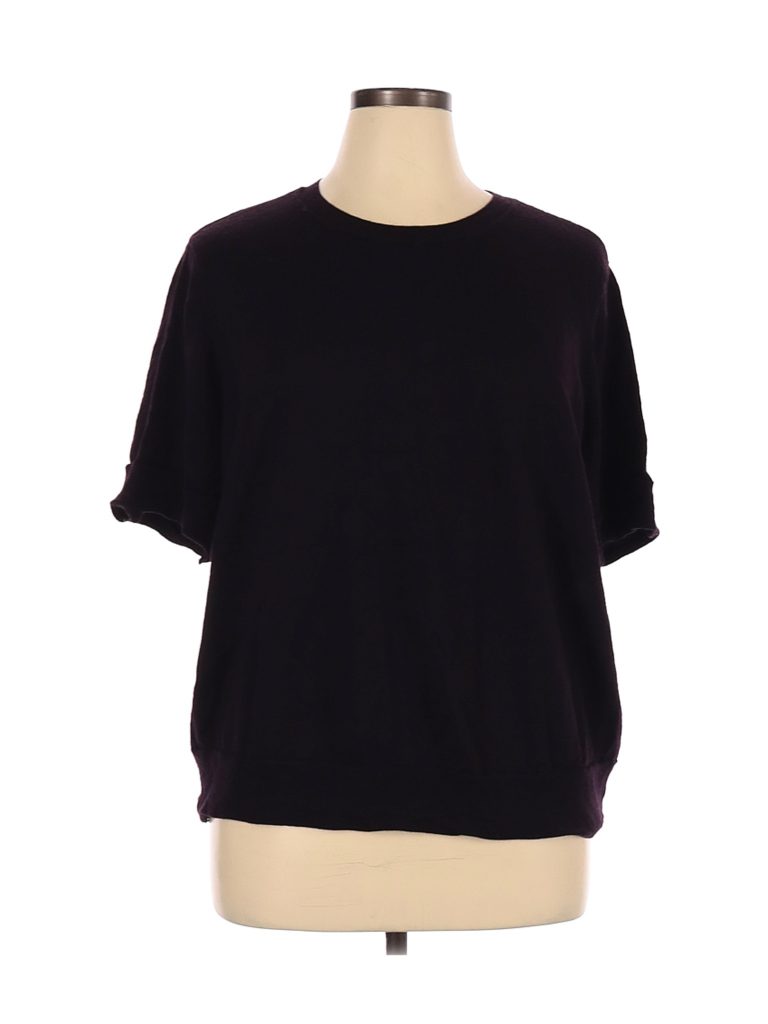 Universal Standard is a highly inclusive brand so when I saw this sweater as one of my options, I was really excited to try it on.
I love the style of the top and the sizing was great; it wasn't too loose or too tight. But, as it was 100% wool, it was itchy as hell and I couldn't leave it on for more than a couple of seconds. The price was a little high, but the top was of very good quality and was reflective of the retail price.
Item #8: Women's Lane Bryant Top; Size 24 Plus; $39.99
I'm very into this lavender, or is it lilac, color at the moment and I'm always into a wrap top, so I really liked this blouse.
It fit me really well and I could see myself wearing it often. It even looked kind of cute with the bathing suit bottoms that came in my box. I would have bought it, but I thought the price was too high for a secondhand Lane Bryant top.
Item #9: Women's Good American Jeans; Size 24; $99.99
Now to the focus of my grief, these Good American, Good Legs jeans. To start, these jeans are buttery soft. They are more like a jegging, than denim. They are super high-waisted, comfortable and stretchy. They are too expensive, in my opinion. All good things, except for the price.
But, yes, you read that correctly. These are the same size, same brand and same style as the white jeans I attempted to try on earlier in this post. See for yourself the sizing difference in the image below; the crotch and legs are lined up, for your reference. Either one of these pairs is a bootleg version, an older/newer version or Good American is widely inconsistent in their sizing.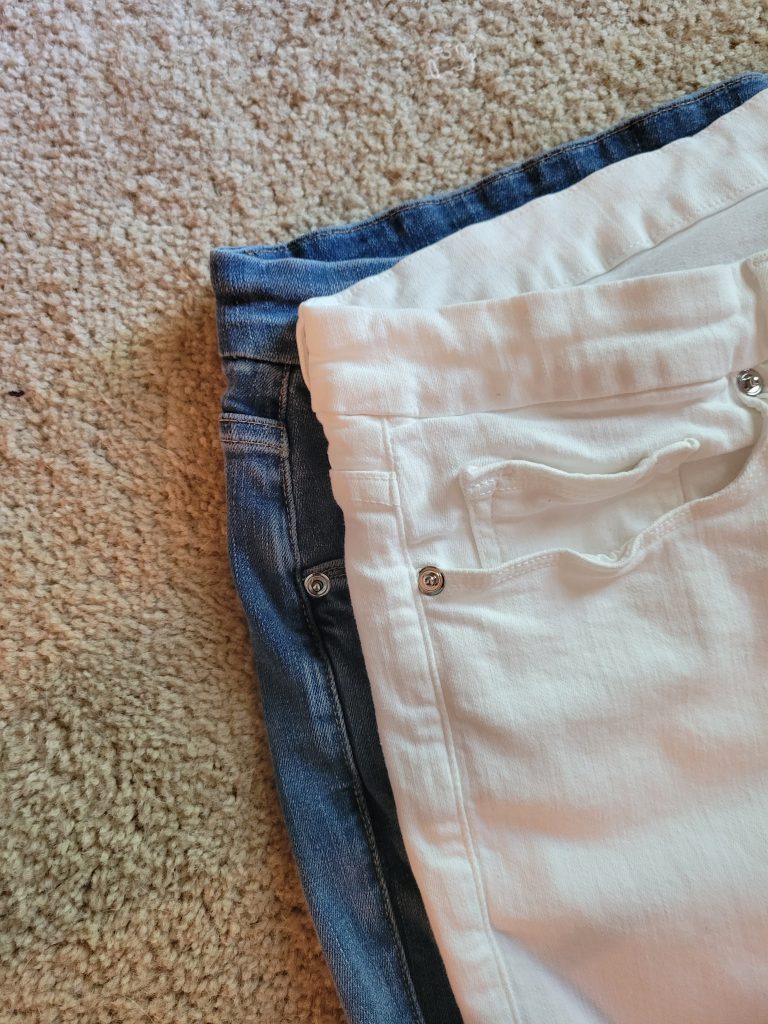 These jeans made me mad and made me feel amazing all in the same breath. Needless to say, I did not buy these.
Item #10: Women's Eloquii Casual Dress; Size 22 Plus; $39.99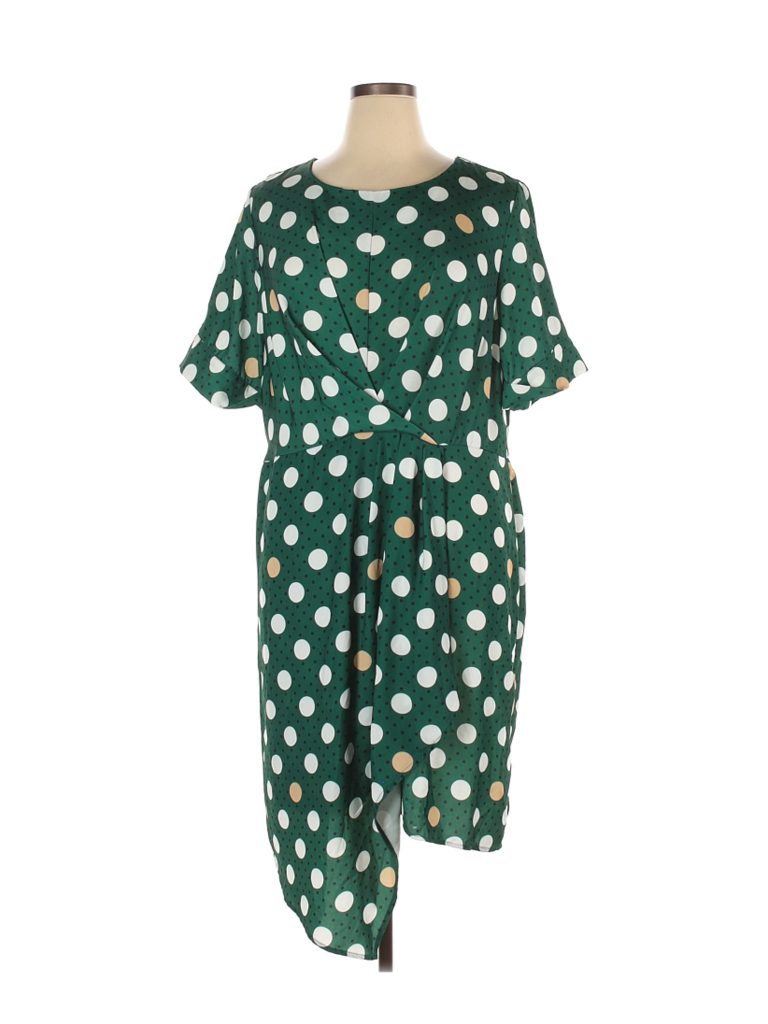 Lastly, I picked out this Eloquii dress because I thought it was cute. I love polka dots and green, so it felt like a good choice. It also, sadly, did not go over my head and shoulders.
The quality wasn't the best and the dress featured my least favorite thing, which is the extra flap of fabric that is not sewn down and is usually at the neckline or the back of the dress. I hate that shit, so it was even more of a no for me.
---
This Goody Box was definitely better than my first one, which makes sense because I should be better that someone else at choosing my own clothes, right? I think boxes like this are always going to be tricky though because you don't have multiple items in the same brand to choose from, which can cause issues with sizing. But, as I've proven, having items from the same brand to choose from doesn't mean you will get consistent sizing either.
This is still a great way to try out new brands and to explore different styles. I can't say whether I will do this again because it is super frustrating and, of course, damaging to one's mental health when something doesn't fit.
So, with all that being said, here is a message for me and for you. The size of your clothes does not matter and ill-fitting clothes should never ever make you feel bad about yourself. I am very happy with my new bathing suit bottoms and will be rocking them all summer long.