As I hope you already know, it is hard to find clothes as a plus size woman, let alone clothes that fit well, are trendy and cute and are not super expensive. The fashion industry is opening up and expanding their sizing more these days, but, alas, it is still hard to find clothes that hit all of those categories I listed above.
ELOQUII is known by most as one of those brands that fits at least the first two categories; they create items that are made for a plus size woman, in her many shapes and sizes, and they create pieces that are pretty damn cool. They also sell more casual pieces that are high quality and can meet the fashion needs of any woman.
If Heidi Klum on Project Runway were to ask me who ELOQUII's woman was, I would say the following: ELOQUII's woman is a stylish professional, who isn't afraid to try out different colors and silhouettes. She enjoys giving an update to what the average business woman looks like.
The only fault for me about ELOUQII is their price point. I can't afford most of their items and have only ever bought one piece from them, which was an item off of Poshmark. I do, although, understand why their items are more expensive because they are known to create very high quality clothes. (Pictured to the right is me in my ELOQUII jumpsuit that I got to wear to my bridal shower. It set me back $35, when its original price was estimated to be $140.)
That's why I was so excited when my friend, Katie, told me that ELOQUII released a new line with their parent company, Wal-Mart, called ELOQUII Elements. The collection, which will be one of four each calendar year, is sold exclusively online and promises that every item will be under $50. Now, I can mess with that.
Chrissy Metz was the face of the collection and she made the items even more desirable. She has been known to wear ELOQUII on the red carpet and I love her for supporting this collection and promoting affordable items.
The collection includes pants, jeans, sweaters, tops, dresses, jackets and even face masks. I would call this fall collection, Elevated Basics. You can shop all of the pieces on ELOQUII's website or Wal-Mart's website, just remember some items are sold out already and the items range from size 14 to 28.
I ordered four pieces out of sheer curiosity and desire and, of course, to share with you guys.
---
The first thing I wanted immediately was the Multi-Stripe Sweater. I love a stripe and that color combo was perfect, but my size was sadly sold out. Two items I would have bought if I didn't already have something similar to them in my closet were the Flowy Utility Jacket and the Legging with Faux Leather Detailing.
Item #1: Distressed Mom Jeans – $30 (Available in Black or Medium Wash), Size 22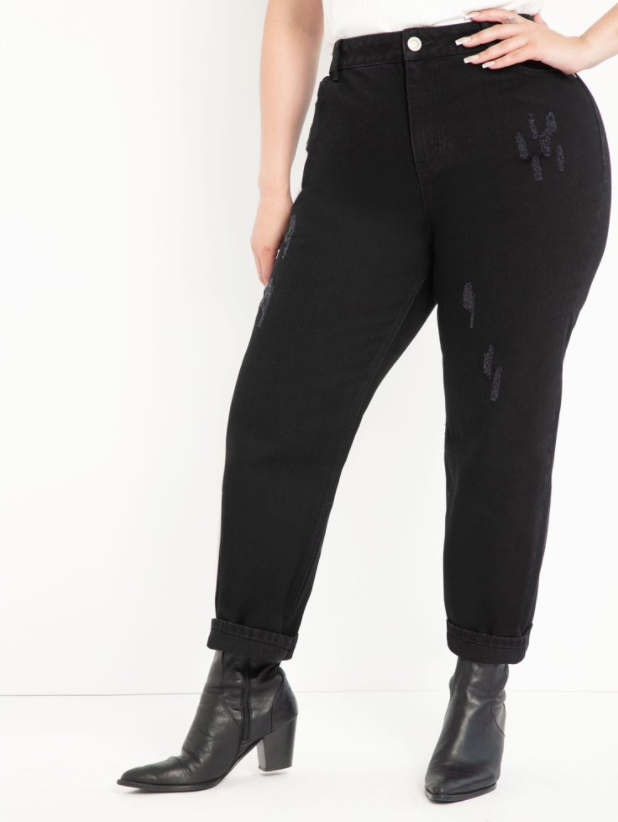 Let me get the only fail out of the way first. I don't own a single pair of black jeans and I liked the style and level of distressing on these.
When I went back to the site later in preparation for writing this post, I noticed that it said "Consider sizing up" above the size selector. Oops.
This faux pas became harshly evident when I tried them on and they would not go past my thighs. I compared them to another pair of jeans that I have from Ava & Viv at Target in the same size and there was about a half of an inch difference in the waistband. A size 24 would have been my correct size in this specific pair of pants.
I'm not going to bother exchanging them for another size because the fabric was a little rougher than I would like and the rise was shorter than what I usually prefer. If you buy these, consider sizing up more than once and/or just consulting the size chart directly, instead of assuming you know your size with ELOQUII.
Item #2: Cropped Sweater – $25 ( Available in Black or Blush), Size 22/24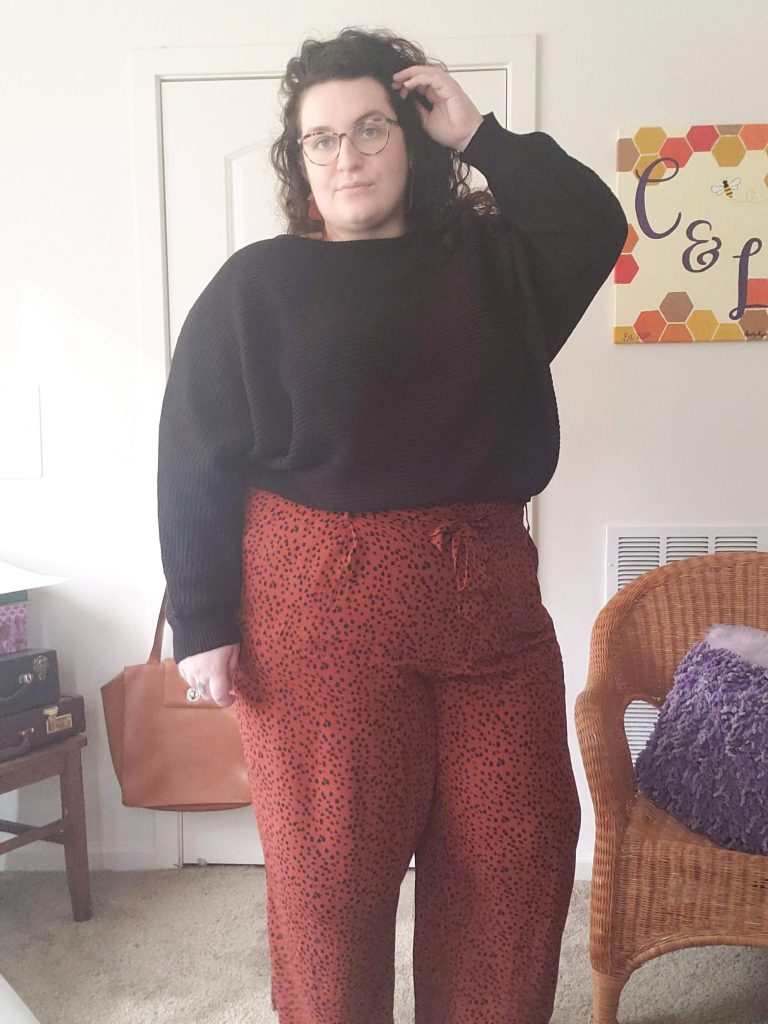 I was excited to buy this item because, if you can believe it, I do not own a single black sweater. I find myself often wishing I had one, so it has been on my wish list for awhile. This sweater was exactly what I was looking for.
My new favorite sweater features an oversized sleeve, almost a bat wing sleeve, and is cropped right to where my pants begin. *Chef's kiss*
The fabric is soft, but not so soft that you break into a sweat as soon as you put it on. And the quality was excellent for the price point. I could have gone down a size in this sweater, but I wanted an oversized look so a 22/24 was perfect for me.
Item #3: Graphic Dot Print Paper Bag Waist Wide Leg Crop Pants – $28, Size 22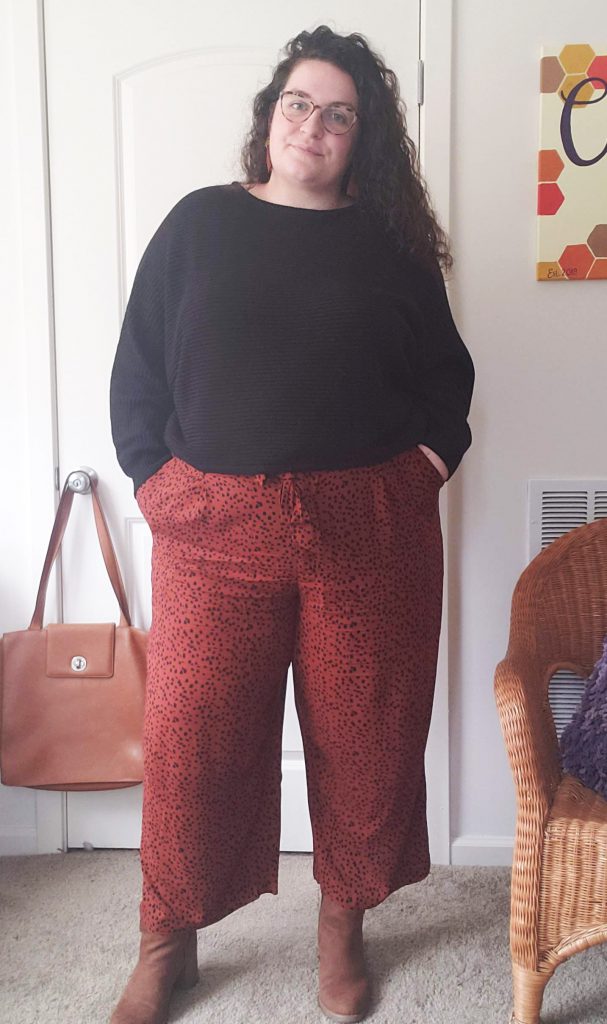 I paired the sweater with these amazing pants, which I just couldn't resist. I mean, come on. They are printed, flowy pants. They had my name on them.
The 22 fit me perfectly. Going down a size wouldn't have worked because these pants have no stretch in them.
They are light and breathable, but sturdy. I could wear them into the spring and even throughout the winter with tights underneath. The polka dots are iconic and this shade of orange is one that I am increasingly attracted to. Unlike most flowy pants, these actually have a snap button closure and a zipper, along with a belt.
These pants feel really versatile to me, so I can see myself pairing them with a t-shirt, biker jacket and sneakers for a more casual look.
Item #4: Graphic Dot Print Ruffle Detail Blouse – $22, Size 20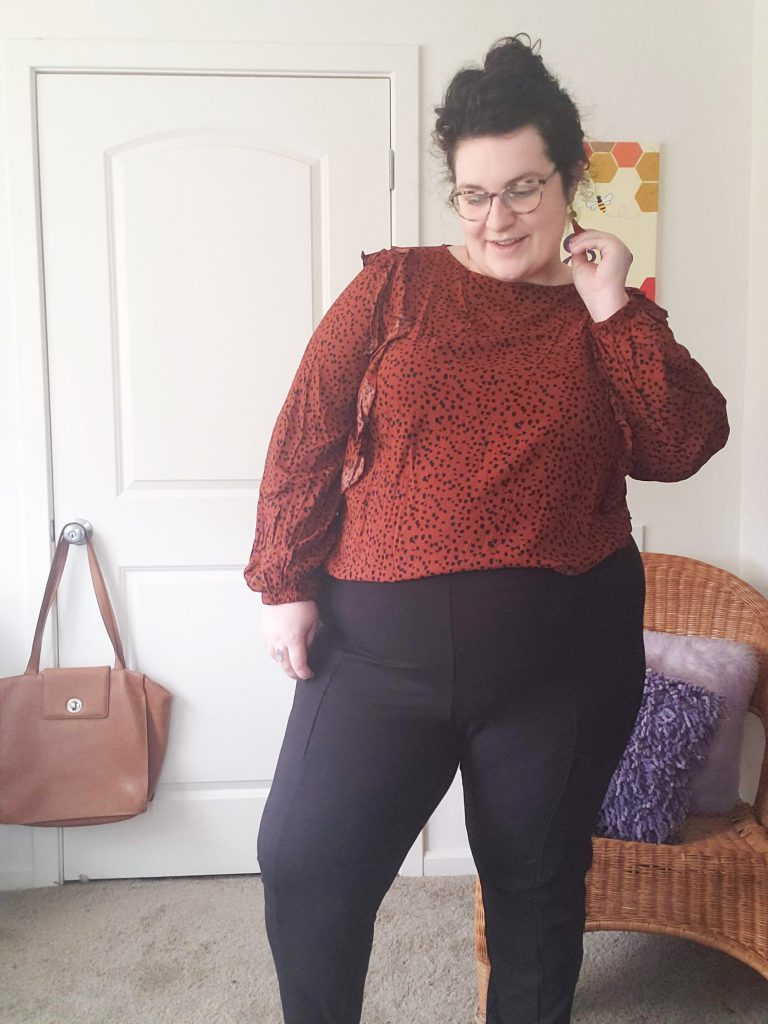 I grabbed this top because I liked the look of it paired with the matching pants that I mentioned above. I think when they are worn together they kind of look like a jumpsuit, which I'm here for.
I liked this blouse because it was comfortable and cute, plus the arms were flowy and I dug the high neck line. I am feeling neutral about the ruffles, but both my husband and my brother were not into the ruffles. Thanks, boys. And I didn't like the two items paired together as much as I thought I would.
The 20 fit me well, but I would have sized up if I wanted a more oversized look. I did find that it was sort of snug on my hips, which is the widest part of my body. I paired it with black pants, coincidentally from Wal-Mart, and I was feeling myself.
I ended up deciding to return this item because I felt like I wouldn't wear it enough to justify buying it. The photos came out cute though, no?
---
I have ripped the tags off the sweater and the pants, signaling that they will not be returned and will have a permanent home in my closet and am very much looking forward to wearing them in the coming months.
I am excited to see what is next for the ELOQUII Elements collection. Would they dare introduce shoes?! I hope you enjoyed this mini review and will let me know if you decide to pick any of the pieces up.
---
Update on March 4, 2022:
I wore the orange pants several times, but they eventually were a bit too snug, so I donated them.
The cropped sweater is a staple in my wardrobe.