Imagine you are a plus size person. Your typical size is a US 14 or above. You need an outfit for a last minute holiday party that you have been invited to later this afternoon. You don't have time to order something, so you head out to go shopping in-store.
Let's say that your first stop is the mall. Surly you should be able to find something at the mall.
You are already overwhelmed by all the lights and obnoxious holiday decor, not to mention the smell of perfume smacking you in the face, but now you have to find "your" section. You either find a directional sign that says that women's plus is on a particular floor or you have to find an employee to ask them where you might find the plus size section.
That employee may be nice to you or they could look at you like you don't belong in the store or they could even laugh about you with a fellow employee when you walk away. Most likely, they will say something like this: "We unfortunately don't sell plus sizes in-store. You can find all of our extended sizes online."
If you are on the lower end of the plus sizes, you might try your luck with the women's section where you may be able to find some things in sizes 14-18 and in an XL or XXL.
But, let's say they do have a plus size section! The plus sizes more than likely not mixed in with the straight sized clothes, so you head to the plus size section. The plus size section is almost always on the bottom floor in the back or in the far corner of the store, unless they are exlusively a plus size store or one of those unicorn, size inclusive stores.
For some reason, the plus size section looks like a tornado just hit it most of the time and it is usually the size of about two dorm rooms.
You are in a hurry, so you look past the disheveled nature of the plus size section and you start looking for something that may work for you.
Everything you find is conservative, mature in a not so good way and hasn't been on trend for a few decades. The styles you see are not the ones that are in the straight size section and they are from different brands. Sometimes they are even more expensive than their straight size counterparts.
You either walk out of the store with something that doesn't make you feel very good, but will work for the party, or you head to the next store hoping for a better turn out.
The experience leaves you feeling defeated and perhaps makes you feel like there is something wrong with your body because it doesn't fit into the cute clothes.
If you are like me and other plus size influencers, you share your experience on social media and may be met with comments like, "Well, you should just lose weight and you won't have this problem."
It's as if you are not allowed to feel cute in your clothes. It's as if you are not good enough to wear clothes from particular brands.
Maybe you shouldn't go to the party afterall.
---
That's a sad story, right? If you have had this experience or a similiar one, I feel for you. I recently had a very similiar experience, which made me want to share this moment with you.
If you haven't had this experience, I am not shaming you. Being able to go into any store and find something in your size is one of the many benefits of thin privilege, which "like any other kind of privilege, thin privilege actually just means that by virtue of some characteristic of your body—in this case, being below a certain size—you have greater access to resources and face less discrimination in society than people without that characteristic." (Dr. Christy Harrison)
You may very well struggle with body image as a thin person, I am certainly not denying that. Dr. Christy Harrison states that "Having thin privilege doesn't mean that you've never had any body-image issues, or that you've never struggled with disordered eating, or that you've never been bullied or shamed by individual assholes for your size. You can have thin privilege and also hate your body."
This is about perspective. Just as I need to hear directly from people of color, disabled people and members of the LGBTQ+ community about their experiences in a marginalized body, thin folks should want to hear from me, a plus size person, about my experiences.
---
I wanted to do a blog post about buying a last minute holiday outfit and so I picked out a handful of stores to visit that I thought I would be able to find something in. And boy was I wrong.
I will be completely honest and say that my experience could have gone differently depending on what sizes I was looking for, what styles I was interested in and where I was shopping. In Winchester, VA, where I am from, I would have found more options, I am suprised to say.
Sometimes the experience as a plus size shopper is good. Sometimes it is freakin' amazing. But, a lot of the times, it's not amazing and it's not even good.
I'm now going to share my experience with you because I want you to be prepared if you need to shop last minute and because there was a clear winner that I highly recommend for last minute shopping for folks of all sizes.
---
I'll be sharing links to the pieces that I actually did get to try on, liked and are available, so here are my measurements for your reference:
Bust – 55″
Waist – 51″
Hips – 60″
---
Old Navy – 801 Evergreen Way Ste 815, South Windsor, CT 06074
I started with Old Navy, which recently launched a campaign where all of their plus sizes are now available in-store! All of their sizes are now available in every style, in every store and at the same pricepoints. (You can read here about my experience at Old Navy. Their sizing can be a little bonkers, but this shift is a move in the right direction.)
I had no problem finding an outfit that I would happily wear more than one time from Old Navy. They had more sizes available in-store than during my last visit and I was more aware of my size at Old Navy, so I thought this trip was pretty successful.
If you need a last minute outfit and you are casting aside the ethics and sustainability of a company, Old Navy is my top recommendation. I think this look nailed my intended vibe for a work holiday party.
Item Details: Sweater in Ivory Pearl, Size 3X | Red Coat is no longer in stock online, Size 3X | Pants in Black Jack, Size 3X ( I would have sized up!)| Booties in Black Jack, Size 10 (I would have sized up!)
Target – 1075 Kennedy Rd, Windsor, CT 06095
I then went to ole faithful, Target, which was actually kind of disappointing. Target online is baller. They carry almost every style in almost every size, but in-store, the plus size section can look kind of bleak.
I was going for a look that I would wear to a friends' holiday celebration or one that I was hosting myself.
This outfit was okay, but the pants were not my size, which seems to be an issue with Target often. I can usually find a top very easily, but I can hardly ever find a pair of pants that's not jeans in-store. Target, do better.
Item Details: Blouse in Teal, Size 2X | Pants in Navy, Size XXL (I would have gone for a 2 or 3X.) | Mules in Black, Size 10 (I would have sized up!) | Bag in Green
Westfarms Shopping Mall – 1500 New Britain Ave, West Hartford, CT 06110
At this mall, I visited JC Penney and Macy's and found nothing that I wanted to try on and experienced exactly what I described in the story at the beginning of this post. As my friend Haley would say, 10/10 would not recommend.
A small rant about this rack that I found in JC Penney: No one, not one person has ever said that they wanted their cardigan attached to their dress, so don't do it. Chevron was so two decades ago. And I love polka dots and gray as much as anybody else, but can I get it in an interesting style, not a f#$kin' sweater with a turtleneck that is so long it grazes my toes?! End rant. Thank you for your time.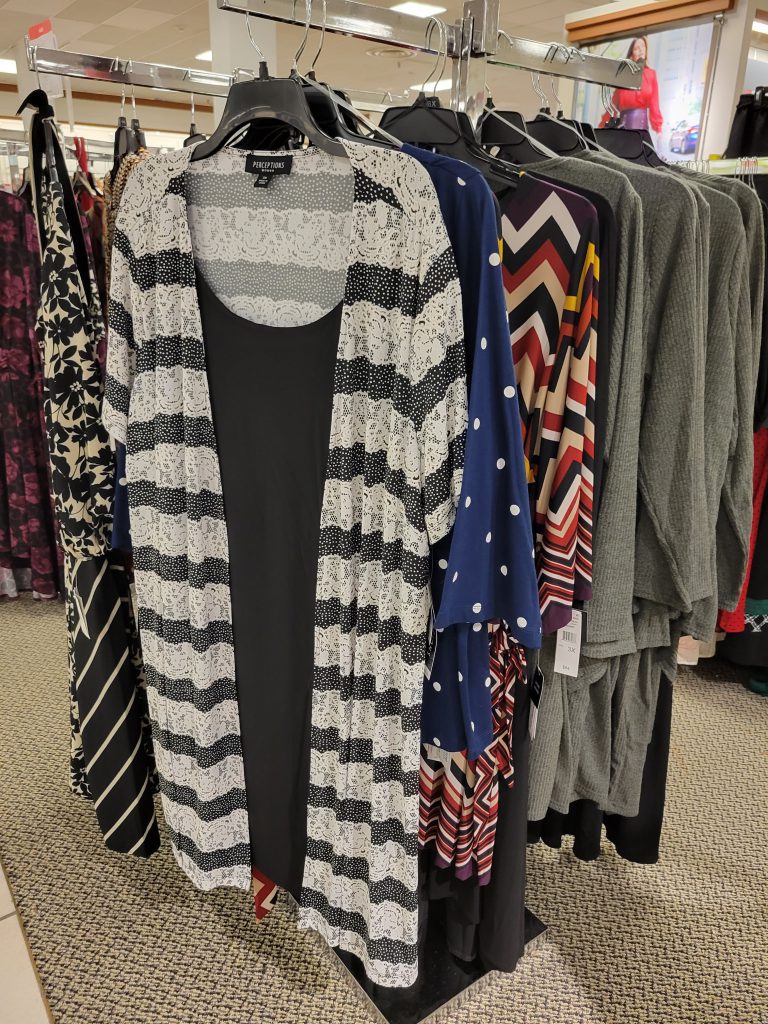 For reference, this mall also has an Anthropologie and a Madewell that do not have plus sizes in-store. I asked so you don't have to.
Wal-Mart – 495 Flatbush Ave, Hartford, CT 06106
This was my last stop and possibly the most disappointing of the bunch. Usually, Wal-Mart has a lot to offer a plus size person. This particular Wal-Mart gave me a couple of racks with minimal sizes. As if it could be more disappointing, I loved this skirt and it is not available in my size online. *Insert grumpy emoji here.*
I didn't go for any specific vibe. I went for something not horrendous and close to my size.
AND, to top off the experience, I got approached by a medium at this Wal-Mart who said I had good energy. I can't even imagine the true aura I was giving off at that very moment, but, as you can expect, I declined her invitation for a reading.
Item Details: Sweater is no longer available in this color, in Lavendar, Size 3XL | Skirt in Dark Brown, Size XXL
---
If you have made it this far, I love you. Thank you. I hope it was worth it, that you felt seen or you learned something or, at the very least, I made you giggle.
Here's mine and a lot of other people's reality: It's hard to go shopping in-store. I can't speak for those who are physically disabled, but I would imagine they have a tough time shopping in-stores as well because of accessibility in the store itself and with the clothing that is made for a non-disabled body.
What can you do as someone who doesn't struggle to shop in-store? Support inclusive brands. Put pressure on your favorite brands to be more inclusive. Listen and support your plus size friends when they say they can't shop in a particular place.
What can you do as someone who does struggle to shop in-store? Get really good at shopping online. (Here are some tips to do so.) Put pressure on your would-be favorite brands to extend their sizes. Know that you are a hot babe that deserves to wear cute clothes.
And that's what I will leave you with:
No matter what size you are, you are worthy of clothes. You deserve to look and feel freakin' amazing in your clothes. Your body is NEVER the problem.