Are there outfits, types of clothing or specific styles of clothing that you deem off limits for you until you are thinner? Do you have a collection of photos saved for outfit inspo when you get skinny?
Last spring and into this summer, I watched a couple of videos on YouTube that claimed to wear outfits that were found on Pinterest boards labelled "outfits to wear when I am skinny," "when I lose weight," or "when I'm skinny." I was eager to watch these videos because as a plus size person, I don't have a board like that and I don't tend to dub outfits unwearable because of my body.
The videos I watched were by Karina Gomez and Maddie Dragsbaek and they are fantastic and you should watch all of their content.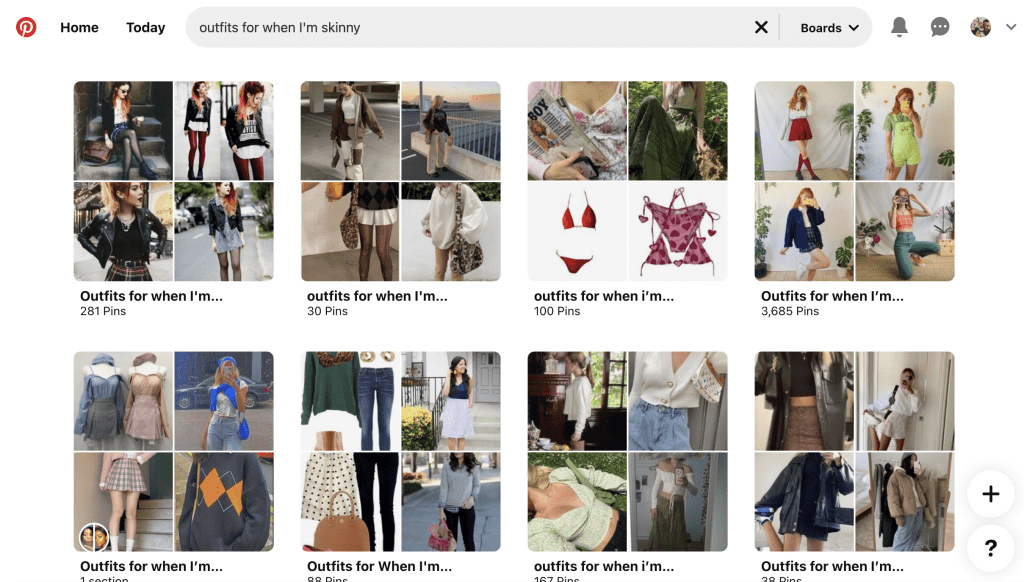 Upon further research, there are many boards and pins saved on Pinterest under the "when I'm skinny" guideline and even when I asked my Instagram followers if they had boards like this some of my lovely friends admitted to having their own lists. (If you're curious, you can check-out these search results on Pinterest to see the mountains of outfits labelled for "when I'm skinny.")
Not only was I frustrated at the idea of so many people limiting their fashion choices because they don't think they can wear something until they are thinner, I was inspired to tackle some of these outfits myself. In doing this experiment, I also realized how far I have come in my body confidence journey. If I don't wear something, it is because I can't find it in my size, I don't want to wear it because I don't like it, I find that item to be uncomfortable to wear physically, or that outfit or piece doesn't fit into my lifestyle. I don't think I would have felt like that as a young girl. I think young Colleen would have had magazine cutouts of outfits I wanted to wear when I lost weight all over her room.
Overall, I felt like these boards were full of sexy attire, trendy outfits, oversized looks and tight-fitting and revealing clothing.
Let's break that down a bit. With brands like Victoria's Secret encouraging dieting and exclaiming that plus size bodies are not desirable, it is no wonder that women believe that sexy, revealing and tight clothing is meant for thin bodies. It is also easy to see that trendy clothes don't often come in plus sizes, which is one of the reasons why brands like Shein and Fashion Nova are so successful with the plus size community. And lastly, although oversized clothes are trendy, what curvy person has not heard that they should flatter their figure and avoid baggy clothing all while being served oversized floral frocks on a silver platter? Have I made my point? Folks that aren't skinny aren't given very many opportunities to wear all of the clothes that they want to and they are constantly told that they shouldn't wear those pieces.
And, I think it goes without saying that Pinterest is FULL of thin bodies or Kardashian-esque bodies. I have to wonder if there were more diverse models, in different sizes, races, gender identities, ages and abilities, on Pinterest, would there be as many "when I'm skinny" boards hanging around.
Anyways, I found three outfits to recreate with items in my closet that I found on Pinterest on boards that were saved for when the pinner got skinny.
---
Before I start showing you the outfits, I want to touch on the topic at hand really quickly and speak my piece.
You are 100% in charge of your own body, style and choices. If you want to wear something, do it. If you don't want to wear something, don't. If you want to lose weight, do it. If you don't want to lose weight, don't. If you don't feel comfortable wearing something, then don't. That's completely up to you, but I would encourage you to think about why wearing that thing makes you uncomfortable.
Are you like me and hate wearing shorts because they roll up on your thick thighs and always cause chaffing? Or are you not wearing shorts because somewhere in life you heard that women with cellulite shouldn't show their legs? Think on it and see if you can figure out where your decisions are coming from, but, as always, no judgment on why you decide whether or not to wear something.
Do what YOU want to do, not what society, your friends, influencers or your family tell you what to do.
I am also in no way shape or form shaming folks in thin bodies. Bodies of all shapes and sizes are criticized and shamed for one reason or another in society and I'm not about that. All of our bodies are beautiful, I am simply focusing on marginalized bodies that include the body that I am in, a plus size body.
This is me jumping off of my soapbox for now.
---
(Obviously, I don't have the pieces that the ladies are wearing in these photos, so I just used like items in my closet. I also tried to recreate the poses as well because why not.)
Outfit #1: Shorts
I don't like wearing shorts, as I pointed out earlier, because they are uncomfortable on my body physically. When I saw this pin, I thought I just had to whip out my only pair of non-sleep shorts and non-bike shorts and recreate this look for you guys.
I also want to remind you that even if your legs don't look like Bella Hadid's, you can and should wear shorts. Find a style and cut that makes you feel amazing and roll with it.
I love the style of linen, high-waisted shorts with or without a tie waist and I like that the look is made casual, yet cool with the green t-shirt. I paired my linen shorts with a maroon t-shirt and my Scorpio star sign necklace for a look that is perfect for a beachside lunch.
This look is easily achievable. The original outfit creates a cinched in waist effect by tucking in the shirt and belting the waist. You could use the same techniques even if you aren't the same shape as me or the model to create the illusion of a waist if you'd like.
This outfit would be perfect for me if the pants were full length because then I could avoid chaffing. You could easily add in a strappy sandal, denim jacket or hat for more pizazz.
Outfit Details: Necklace – Tin Top Art & Handmade | T-shirt – Universal Standard | Shorts – Target
Outfit #2: Cinched-Waist Dress
This outfit is one that I will 100% be wearing this fall. Is it not giving you Anne of Green Gables?
The original pin features a cinched waist, a presumably long skirt with short sleeves in a ditzy floral print. The model has a chunky cardigan thrown over top and she is wearing simple jewelry.
What's not to like about this look? It's cottage core realness and dead simple to recreate. I grabbed my favorite polka dot, vintage dress and a chunky lavender cardigan to complete this look and I loved how it came together.
I'm not sure why someone would think they couldn't wear this outfit in any body type, but maybe a contributing factor is the lack of mid size and plus size bodies in period films and in the cottage core community on Instagram.
Just about any dress with an accentuated waist will do the trick and hit up your local thrift store for chunky knits to layer over top for a comfy, cute look.
Wear the dress, babes.
Outfit Details: Dress – Thrifted | Cardigan – Target
Outfit #3: A-Line Skirt
And for my last outfit recreation, I focused in on the trendy slip skirt. I love this trend because it's chic and, paired with sneakers, it's comfy and effortless.
Slip skirts don't largely come in extended sizes and are known to hug the body and show lumps and bumps, so that could be why it ended up on a "when I'm skinny" board.
I happily recreated this look with a black tee, my polka dotted slip skirt and white sneakers. She accessorizes with layered necklaces, which are once again not readily accessible for plus size folks, a fanny pack and those god awful minuscule, pointless sunglasses.
You could easily choose to amp up this look with a leather jacket and statement bag. And if you feel better in a different cut of skirt, find your favorite skirt in a print and pair it with neutrals.
Now if I could only find a pizza.
Outfit Details: T-shirt – ASOS | Skirt – ASOS | Shoes – Ross, Adidas
---
Hopefully I have inspired you to get rid of your "when I'm skinny" lists and try out some new styles that maybe you felt like were off limits to you and your body type.
I've got news for you and yours, fashion is not for one body type. Fashion is for every body.
Please let me know if you manage to move one of your "skinny" pins to your "right now outfits" board. I'm sure you will look great in whatever you wear.