As you will already know if you have been following my blog for any amount of time or know me personally, I have a strong affinity for secondhand goods. I shop secondhand for many reasons, which are outlined here. Although I mostly talk about shopping for clothes secondhand, I also shop for secondhand home decor and furniture.
I have lived away from my parents house for almost 10 years now and have, alongside my husband who enjoys handmade and vintage pieces, acquired quite the collection of secondhand furniture. The main reason why we have these pieces is because we needed furniture and we had a low budget, simple as that. We always choose pieces that will last, will serve our purposes and fit our style. Of course, we have some new items in our apartment, but the secondhand overpowers the new.
If you are interested in learning more about any of the places that I thrift at, please consult my Thrift Store Guide (By City) post.
As a note on our style, we like things a little rough around the edges, both literally and figuratively. Nothing we own is perfect, except our hounds, obviously. Things probably don't match each other or go together, but they work for us.
---
Starting in the dining room is our newest addition. I actually scooped up these chairs and table off of Facebook Marketplace and paid $100 total for the set. It may look small, but there is storage underneath and since it's just the two of us, we didn't need a lot of table space. There's not much to say about the chairs, other than they are mint green and, well, that makes me happy.
Next in our living room and atrium (as our apartment complex likes to call it), we have a white side table, which serves as a place to put my morning coffee, that I picked up for $12 at Etc. Consignment in Winchester, VA.
Then, we have three chairs. Our temporary desk chair while we look for another one more suitable for long work from home hours, is a white, faux leather circular chair that I got off the sidewalk at our apartment complex. I ran into the previous owner and she said nothing was wrong with it, she just thought it had a strong smell to it. Spoiler alert: we couldn't smell anything. It spins and is pretty comfortable. It is definitely the most modern thing in our apartment.
The second chair is wicker and probably meant for a deck or outdoor patio. Logan sits in it while he plays video games and I just like the look of it. I can't remember how much I paid for it, but it was from the Goodwill in Winchester, VA.
The third and last chair that we have is a vintage chair that goes with my writing desk, which is coming up. Right now it serves as a sort of stand for some of my vintage home decor and Harry Potter Land merchandise. (It's Rita Skeeter's quill and notepad in the green box on the top, if you were curious.) It's not the most comfortable, but I wouldn't dare part with it.
Beside the vintage chair is a desk that was made and given to Logan by his grandfather. The craftsmanship is beautiful and Logan loves it because it was made by his favorite person. Not secondhand, but handmade and we dig handmade.
And in the corner is my vintage mirror that I got off of LetGo for $8. I wanted a full length mirror and it being vintage made it even better. It swivels forward and backward to your liking and our dog, Honey, likes to look at herself in it.
As I mentioned, I also have a vintage writing desk that goes with the last chair. My grandparents gave the set to me and I love it. She is the home of my record player and the wood flowers from our wedding. This corner of our apartment is my favorite. Many of my most prized possessions are there.
Now into the bedroom. Logan has a hand-me-down dresser and bedside table from my parents that he uses. There are no photos of those two items. I will let you use your imagination to what they look like. He does have a secondhand salt lamp though, which is pretty cool.
My grandparents found my dresser for me at an auction and it also serves as a tv stand. She's a big old girl and I love her. And on my side of the bed, I have a nightstand, which is decorated in stickers that I have collected over the past four years. I mentioned needing something like this to our friends at Hip And Humble Interiors in Berryville, VA and before I knew it, they had sliced me off the end of a tv cabinet that they were scrapping for parts. I love this thing. It's like my version of a traveling suitcase with stickers of everywhere I have been on it. I'll give this to my grandkids one day.
Upstairs in our loft and makeshift work-out room, we have two bookshelves and an endtable that are secondhand. The biggest bookshelf is from Salvation Army in Winchester, VA. It is pink, which is not my favorite, but it has served me well. One day, I will repaint it.
The second bookshelf is from Blue Ridge Hospice Thrift Store in Winchester, VA, the one by Sharp Shopper, if you are local. It is dark green and I love it. And yeah, let's not dwell on the amount of books I own, okay?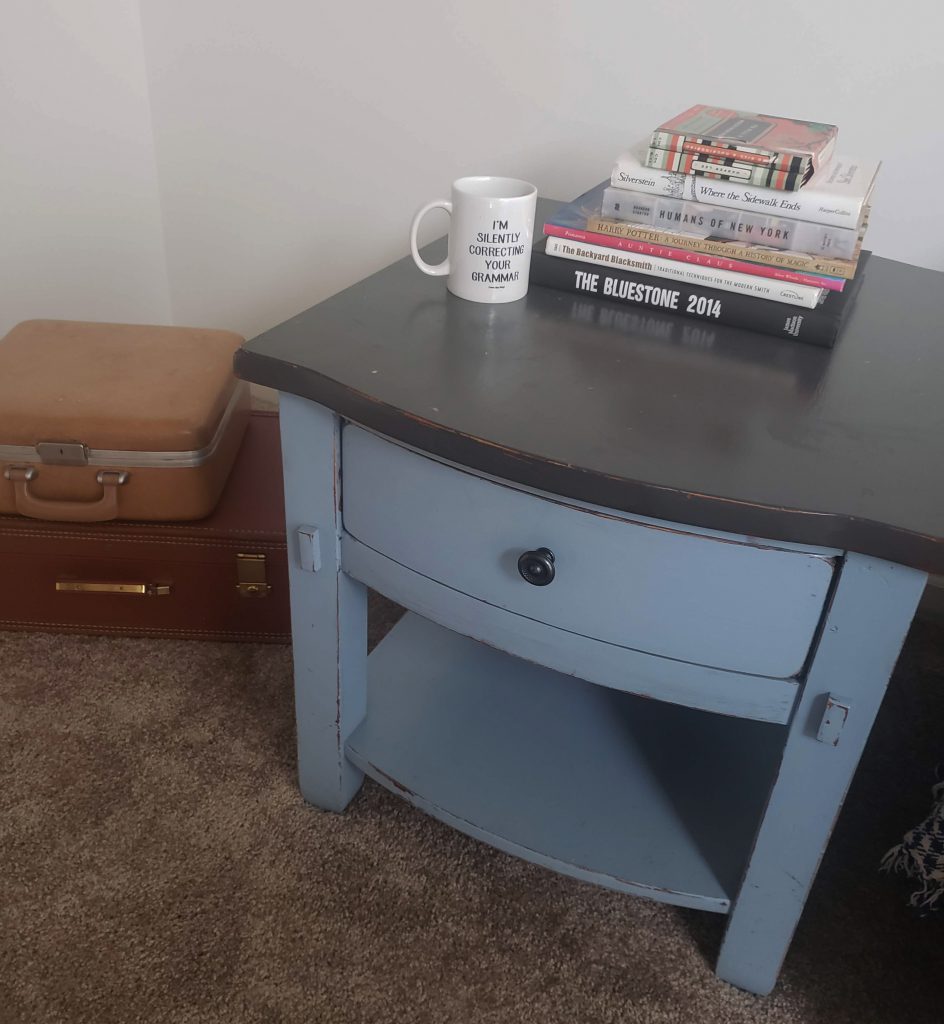 And lastly is an endtable that I got off of a Free & For Sale Facebook Group. I love the two shades of blue and the storage space. It is heavier than you may think and very wide. The dogs have been known to stand on it and get yelled at for it.
---
I share this tour with you so that next time you need a new piece of furniture, you will consider looking into secondhand options, which are probably cheaper, better quality and sometimes cooler, before you buy something brand new.
There are so many places to find secondhand furniture! Just be patient and the right piece will come along.