Happy Earth Day, peeps! Today is the day where it is socially acceptable to get emotional about both the beauty and the destruction of the Earth over a lunch meeting. But, if you are like me, you get emotional about both the beauty and the destruction of our Earth on a regular basis.
Therefore, on this 49th Earth Day (shocker, I know), I am issuing myself a challenge. I am challenging myself to cut out fast fashion for good and stop being okay with shopping ethically only 90% of the time. I will start this challenge with a good ole thrift haul. Cue Thrift Shop by Macklemore and Ryan Lewis, even though I was thrifting way before it was cool.
I collected the following items in three trips; I visited the Goodwill on Millwood Avenue in Winchester twice and the SPCA thrift store once in the month of April. I spent roughly $35.
On my first Goodwill trip, I snagged some lounge wear that I probably won't be getting much wear out of in the next couple of months, but am happy to keep the pieces waiting for the colder months.
I bought a blush, dare I say, millennial pink, Champion hoodie. It's so dang comfy and I have been wearing it more than I would like to admit. I am also daydreaming of pairing it with a denim jacket. Is anyone else a sucker for a good hoodie, denim jacket combo?
Your girl also found a matching lounge set from Target's Knox Rose line! The hoodie and joggers are a distressed mauve color with floral embroidery. I'm about to rock them together, separate, and more than likely with Birkenstocks. Can you say, the perfect plane outfit?

We all know I buy so much lounge wear because I work all day. Can I get an amen from the ladies out there who go from professional to bum in the first thirty seconds of entering their house?
I did buy some pants for work because when you find pants at the thrift store, you buy them. End of story. These pants are a cropped trouser style with an interesting geometric type print. They were sold by the subscription service, Dia & Co, and were probably a lot more expensive than the single digits that I paid for them. These pants are going to serve me well with sleek tank tops and sandals in the summer and sweaters and boots in the winter.
On that same trip, I scored this vintage caftan! Um, hell yeah. This vintage number is giving me all the vacation vibes and that print is to die for. Not gonna lie to you, I may live in this airy wonderland all through the heated months.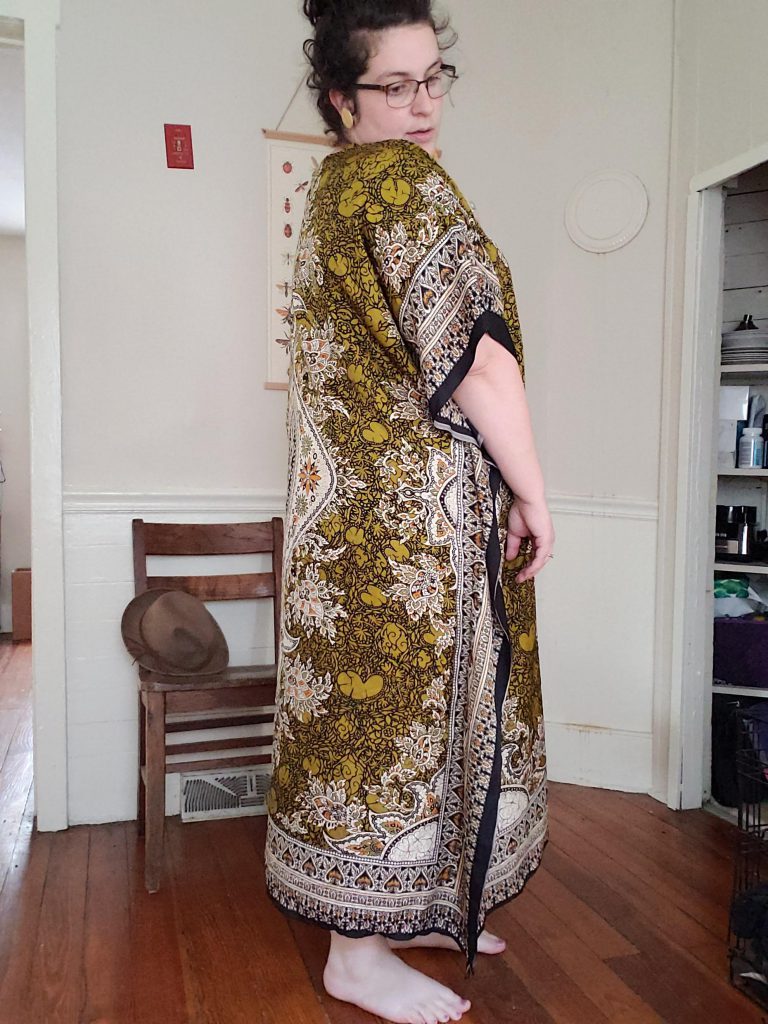 On my second trip to Goodwill and my short visit to the SPCA thrift store, I went with my momma and best thrifting partner. I took home two pink items. (Who am I? Tween me is shook.)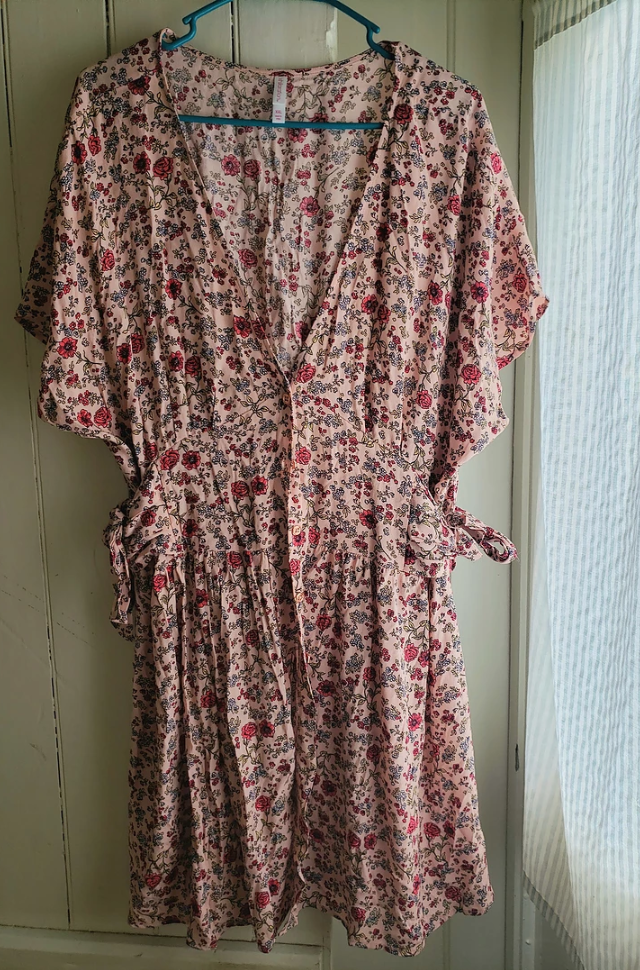 The first is an Xhilaration dress from Target that features a ditzy pink floral print with hints of blue and green and cute ties at the waist and buttons down the front. I think I will use this as a duster/kimono over a white tee and jeans. I use pieces like this on a daily basis to make a more muted outfit more interesting.
And lastly, I grabbed another pink floral dress, but this time it was a JC Penny wrap dress that is super soft and easy to throw on with some sandals or boots. And you may notice the woven bag I'm carrying. I grabbed that thing for under $4. I whipped that thing off the SPCA rack so quick, my poor momma didn't even have time to say "Oh, this is cute." She did however mention that if the bag doesn't like me anymore, it can find a home at her house.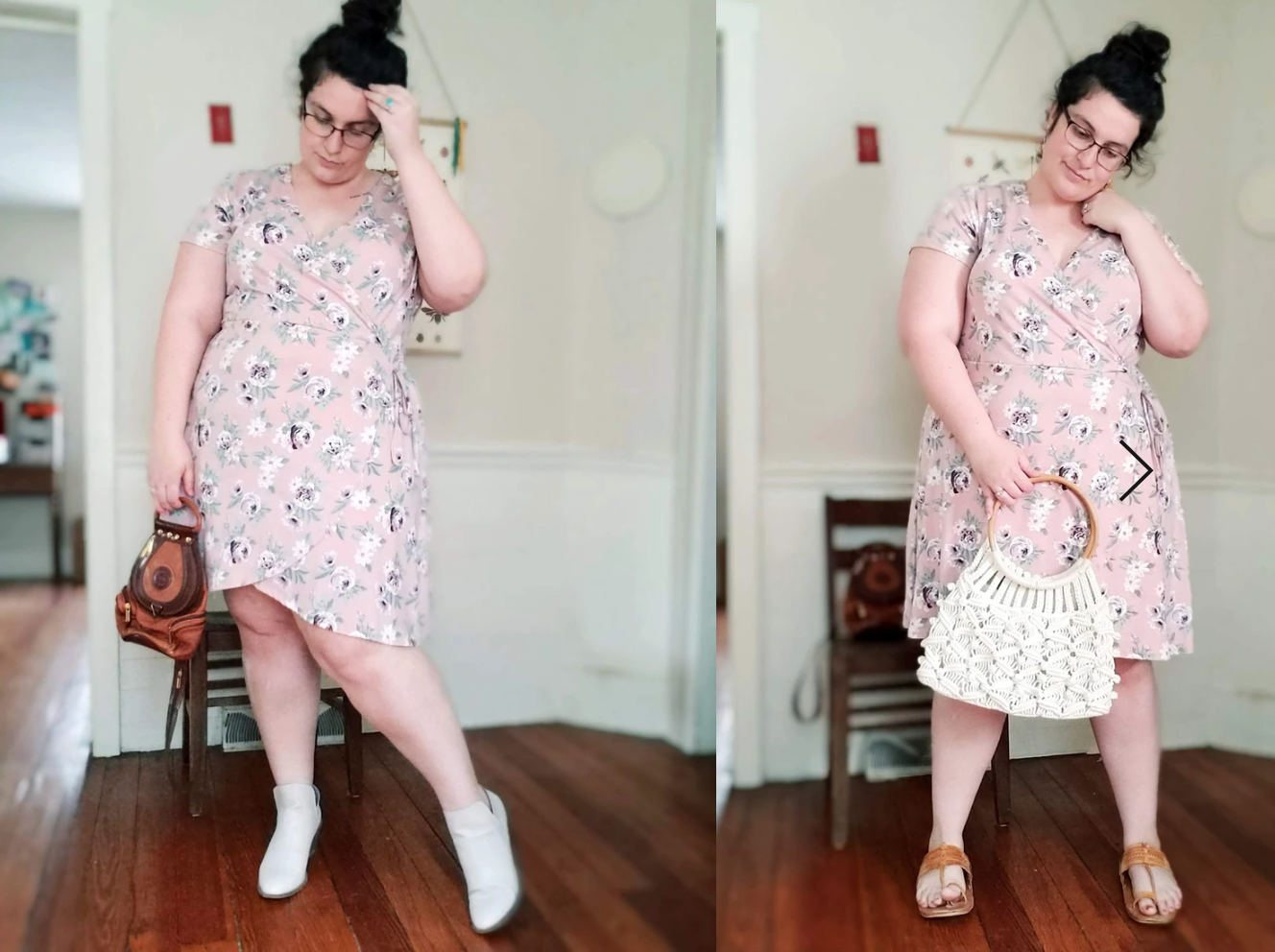 That concludes my first ever thrift haul to be published on the internet. R.I.P. to the thrift hauls that never made it into a blog post. Hopefully, they will show up on my Instagram some day.
If only my bank account knew that I'm like trying to save the planet over here. Will you join me in my challenge? Say no to fast fashion with me!
---
Update on March 4, 2022:
I no longer own any of these pieces, but some of them live with my mom now.