Hi, my name is Colleen and I have seven tattoos and counting!
If I had more money, I would have more. So, here's to me saving all of my money for travel and tattoos. The saying that "tattoos are like potato chips, you can't just have one" is accurate.
Here's why I love them and think you should too. Just as fashion, for me, expresses how I feel in that moment. Tattoos tell a story, my story. OR. Tattoos are wearable artwork. They don't have to have a meaning, you can just think they look cool. Instead of putting it on my wall in my apartment, I'll put it on my arm. I think I learned this from watching too many hours of LA Ink and from my then-boyfriend now-husband, Logan, who is a tattoo lover.
Obviously, they are permanent, unless you want to spend a lot of time and money and go through a lot of pain to make them not permanent. So, I put a lot of thought into what I get. I know, for me, I have to be comfortable with the idea of looking at the tattoo for the rest of my life.
I am going to talk through my collection in chronological order and talk about my experience as well.
---
Tattoo #1: "no worries"
When I was 18 in 2011, I got my first tattoo. I got "no worries" tattooed on the inside of my right wrist at Body Art Tattoo in Berryville, Virginia.
I got this tattoo to remind myself not to worry, which is what I was clocking my generalized anxiety disorder into. It was obviously more complicated than that. It is, however, a symbol of what I went through with my mental health in high school and what I will continue to go through for the rest of my life.
I was not prepared to get this tattoo. I almost fainted in the middle of the session because I was dehydrated and hungry. Pro tip: Eat and drink before you get a tattoo, for God's sake.
I also watched a lady get a panther from her shoulder to her knee while I was getting my measly first tattoo. I saw her bare ass, so there's that for entertainment.
People ask me often why I didn't get "Hakuna Matata" on my wrist. Because I wasn't ready to live with that, okay?
Tattoo #2: Semicolon
I got my second tattoo, a semicolon on my right ankle, in 2013 at Steel Heart Tattoo in Harrisonburg, Virginia. Not to be that person, but I got this tattoo before it was cool. So, did my friend, Beth!
I got a semicolon done because I was deep into my collegiate education as a writer. I remember learning how to use semicolons in my 8th grade creative writing class with Mr. Doerwaldt, one of the best teachers I have ever had.
I thought it was significant that a semicolon connects two full sentences with the same theme or meaning. I felt like that was where I was in life, connecting my childhood with my adulthood.
It became a symbol for the suicide and self-harm awareness movement and even was the subject of my friend, Brooke's thesis in grad school. I don't mind sharing the symbol, but I'm not too into people assuming that's what my tattoo represents. Alas, I'm still happy with my decision to get it and I still encourage people, as always, to not judge a book by its cover.
Tattoo #3: "How wild it was, to let it be."
I waited until 2018 to get my next tattoo, a quote from Wild: From Lost to Found on the Pacific Crest Trail by queen, Cheryl Strayed. This is the last line of the book and truly are words to live by for me. It may have also inspired the name of this very blog. Can you tell it's one of my favorite books?
I got this a couple of months after I started taking anxiety and depression medication and I learned that it was okay for me to need medicine to live my life to the fullest. It was okay for me to want to live without panic. It truly is wild to let shit be.
Alex, at Body Art Tattoo in Berryville, Virginia, did this one and he also did a great piece for my husband. It hurt REAL BAD, but it's a good one to carry with me.
Tattoo #4: Floral Venus
For my fourth and favorite tattoo so far, I got the symbol of Venus in flowers on my left, inner forearm. I wanted the symbol of Venus because it is the sex symbol for female and it was a popular image during the Women's March on Washington in 2017. To me, it represents being a feminist.
I wanted something very feminine, so I chose flowers in purple and gold. This was also my personal ode to JMU, my second home and the place where I figured out who I was and what I believed in.
My favorite thing to tell people about this tattoo is that I had thought about asking for a rose in the middle of the bottom of the symbol to represent being a tom boy and feeling like I was never the right type of girl. I never told him this and you can see what he ended up putting in the middle on the bottom.
I got this baby a month before my wedding in November 2018 at my go-to shop, True Love Tattoo in Martinsburg, West Virginia. She's by far my favorite. And yes, my tattoos are females.
Tattoo #5 & #6: Acorn and Moon/Wave
I got two finger tattoos (one on the inside, one on the outside) for my 27th birthday gift to myself in 2019. I once again, got these at True Love Tattoo by the wonderful and speedy, Brandon.
The acorn sits happily on my right middle finger and represents home, among other things. I love acorns and have fond memories of collecting them in my backyard as a kid.
Also, Logan and I are big fans of The Lord of the Rings and The Hobbit, which both incorporate the symbol of the acorn into their storylines, both in the movies and the books. It also reminds me of our trip to New Zealand or our pilgrimage to Middle Earth, as we like to call it.
Lastly, on the inside of my ring finger, on my right hand is a moon sinking into a wave. I got this as a tribute to my more than 10-year relationship with my husband, Logan. Our song is Smooth by Carlos Santana and Rob Thomas and it inspired this tattoo. The lyric goes "And it's just like the ocean under the moon/Oh, it's the same as the emotion that I get from you."
This little tat is faded because she is on the inside of my hand. It is at NO fault of the artist. That's just how inner hand tattoos work. We are going to try to touch her up and see if she holds. But, I love her either way. Logan and my relationship hasn't been perfect, so why would this tattoo be?
Tattoo #7: Fat Bottomed Girl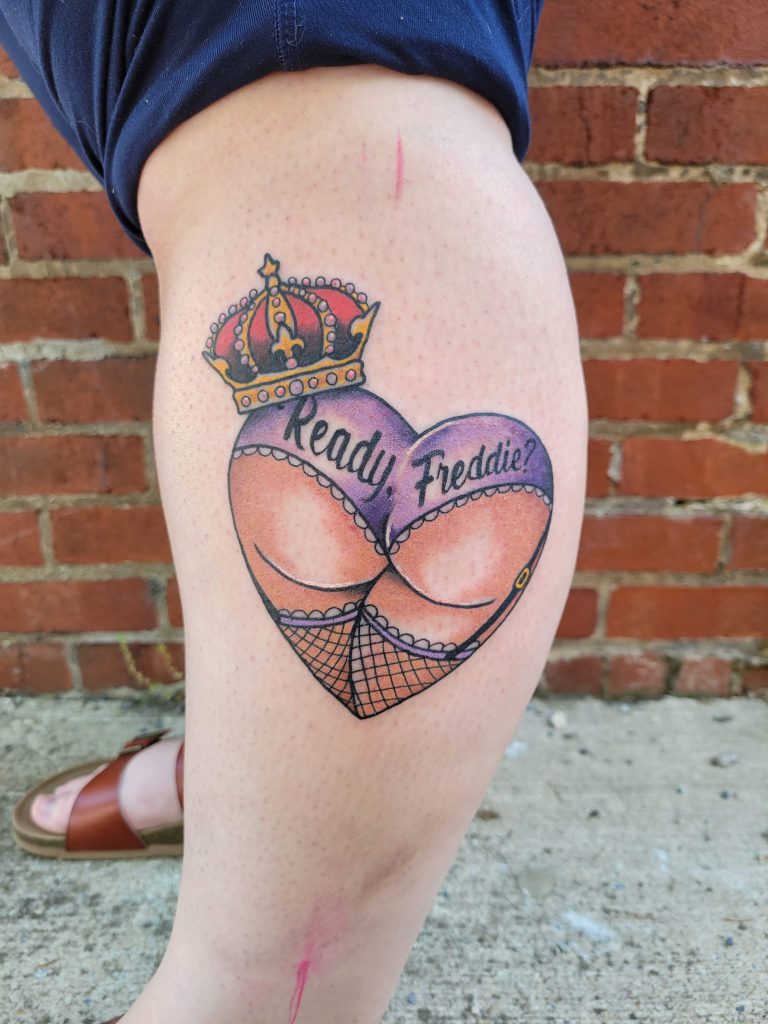 In June 2021, I finally got to honor my hero and favorite musician of all time, Freddie Mercury. I saw a lapel pin years ago that was shaped like the ass of a pin-up girl with a crown on the top of one cheek and the words "Fat Bottomed Girl" on the other cheek. I knew instantly that I wanted an American traditional version of the tattoo with the words, "Ready, Freddie?" on it. I have said that phrase to Logan during our whole relationship, but what I am asking is whether or not he is ready for an adventure. I even have been known to ask Honey, "Ready, Little Freddie?" That phrase plays a part in the Queen song, "Crazy Little Thing Called Love," as well.
I wanted the ass of a pin-up girl for a couple of reasons. One reason was an easy shout out to the song with the same name. I also liked the idea of paying tribute to my body positivity and self love journey with the image of a fat ass.
I couldn't be more happy with this tattoo! Shout out to Seth at Sakura Tattoo in Winchester, Virginia who when I approached him about doing this tattoo responded by saying, "Hell yeah. I love drawing thick women."
---
So, what's next in my tattoo world? A sleeve? A rib tattoo? More color? More words? You'll have to wait and see.
Let me see your ink! And please, as always, send me recommendations on your fave tattoo shops.